Midday Stock Roundup
Tuesday, October 1, 2019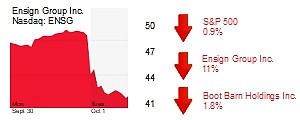 The S&P 500 fell 0.9% to 2,949.69 during midday trading.
The Dow Jones Industrial Average decreased 0.9% to 26,668.38
The Nasdaq dropped 0.6% to 7,952.33.
The yield on a 10-year Treasury bond plunged 3.3% to 1.6%.
The price of gold increased 1.3% to $1,492.
The price for a barrel oil fell 1.2% to $53.40.
HEALTHCARE
Healthcare stocks fell after the Motley Fool website reported late Monday that Amazon Care's pilot program for medical costs "should send shudders" through the retail health market, and the sector endured its longest losing streak since 2016.
Mission Viejo-based healthcare facilities operator Ensign Group Inc. (Nasdaq: ENSG) dropped 11% to $42.25 a share for a market cap of $2.3 billion. Heart valve maker Edwards Lifesciences Corp. (Nyse: EW) of Irvine slipped almost 2% to $215.88 per share for a market cap of $44.7 billion. San Clemente-based glaucoma device maker Glaukos Corp. (Nyse: GKOS) fell 5% to $59.29 a share for a market cap of $2.2 billion.
RETAIL
Irvine-based Boot Barn Holdings Inc. (Nyse: BOOT) fell 1.8% to $34.27 a share for a market cap of $977 million, on a dimming outlook for clothing retailers following the bankruptcy filing of Forever 21.