Midday Stock Roundup
Monday, November 25, 2019
Share this article: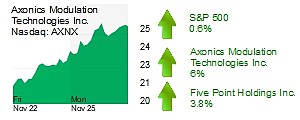 Major U.S. stock indexes climbed Monday amid optimism over China trade relations.
The S&P 500 was up 0.6% to 3,129.64 during midday trading.
The Dow Jones Industrial Average increased 0.5% to 28,015.34.
The Nasdaq jumped 1.2% to 8,623.15.
The yield on a 10-year Treasury bond was down 0.8% to 1.76%.
The price of gold fell 0.5% to $1,456.
The price for a barrel of oil inched up 0.1% to $57.80
HEALTHCARE
Axonics Modulation Technologies (Nasdaq: AXNX) in Irvine rose 6% to $23.43 and a $672 million market cap. The medical device maker announced Monday that its implantable electrical stimulation device designed to treat overactive bladders and other urinary conditions is being used at Sanford Health Facilities, one of the largest rural health systems with 44 hospitals in 26 states and nine countries. The company also recently said it has entered into an agreement to supply the Axonics r-SNM System to The University of Tennessee Medical Center.

REAL ESTATE
Irvine-based Five Point Holdings (NYSE: FPH) increased 3.8% to $6.92 and a $1 billion market cap. Shares for the developer are currently trading at half their typical volume and are flat since the start of the year.