INSIDE DOWNTOWN SANTA ANA'S CONTINUED RETAIL REINVENTION
A Main Street for Streetwear
Friday, November 22, 2019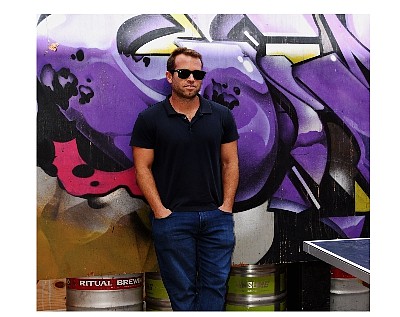 Ryan Chase was in a bit of a bind when streetwear retailer Blends vacated its prime, corner space at 4th and Bush streets in Santa Ana last year.
One of the street's other shop owners offered to contact Stüssy, if Chase, principal at commercial real estate firm S&A Management LLC, wanted.
Obviously, yes, contact Stüssy was Chase's answer.
The next day, the famed Irvine-based clothing label's team—president, owner, heads of marketing and real estate—were in downtown Santa Ana checking out the space.
Chase was told they'd follow up with a call. They did, the following Monday at 9:03 a.m.
"Normally, you wait until at least the middle of the day. 9 o'clock you're eager. You want this," Chase said, recounting what happened.
"So they asked 'What do you think about us?' I've been drawing Stüssy 'Ss' since I was in elementary school. I'm like, dude, 'Are you kidding me? Yeah, I want to do a deal.'"
They made a deal and that's how Stüssy Archive, the only store of its kind stocked with rare and vintage pieces from across the label's collection came to find itself in downtown Santa Ana, of all places.
Day One had a visitor from China trying to buy out the whole store.
He came back the next day, with $5,000, live streaming product to sell.
"I see kids coming [to downtown] from South County, L.A., Oregon, China. So we are differentiating ourselves," Chase said. "When [L.A.-based sneaker retailer] Rif opened, the line was down the block. I saw people doing videos and walking around saying 'Oh, my God. I didn't even know this was here.' One guy drove from Ohio because he wanted the first look at all the shoes.
"So you get that weird s—t happening here with some of these cutting-edge brands and concepts."
LA Alternative
That Stüssy picked something outside of Los Angeles—nowhere near Fairfax Avenue, a mecca for streetwear fans, or La Brea Avenue, what's now perceived as the cooler alternative to the aforementioned Disneyland for hypebeasts—for its only Archive concept, had to have said something.
The firm counts only 4 other locations in the U.S.
For Chase, it was the area's way of solidifying a critical mass of street and skate brands, and signals retail's continued reinvention in an area that itself is undergoing an evolution.
"I noticed a trend of downtown Santa Ana becoming a hub for art, streetwear, food and culture," said Eric Phan, Chief Brand Officer at Diamond Bar-based specialty retailer Bait.
Prev Next