A Main Street for Streetwear
INSIDE DOWNTOWN SANTA ANA'S CONTINUED RETAIL REINVENTION
Friday, November 22, 2019
Share this article: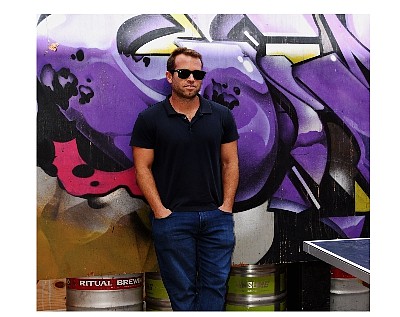 Ryan Chase was in a bit of a bind when streetwear retailer Blends vacated its prime, corner space at 4th and Bush streets in Santa Ana last year.
One of the street's other shop owners offered to contact Stüssy, if Chase, principal at commercial real estate firm S&A Management LLC, wanted.
Obviously, yes, contact Stüssy was Chase's answer.
The next day, the famed Irvine-based clothing label's team—president, owner, heads of marketing and real estate—were in downtown Santa Ana checking out the space.
Chase was told they'd follow up with a call. They did, the following Monday at 9:03 a.m.
"Normally, you wait until at least the middle of the day. 9 o'clock you're eager. You want this," Chase said, recounting what happened.
"So they asked 'What do you think about us?' I've been drawing Stüssy 'Ss' since I was in elementary school. I'm like, dude, 'Are you kidding me? Yeah, I want to do a deal.'"
They made a deal and that's how Stüssy Archive, the only store of its kind stocked with rare and vintage pieces from across the label's collection came to find itself in downtown Santa Ana, of all places.
Day One had a visitor from China trying to buy out the whole store.
He came back the next day, with $5,000, live streaming product to sell.
"I see kids coming [to downtown] from South County, L.A., Oregon, China. So we are differentiating ourselves," Chase said. "When [L.A.-based sneaker retailer] Rif opened, the line was down the block. I saw people doing videos and walking around saying 'Oh, my God. I didn't even know this was here.' One guy drove from Ohio because he wanted the first look at all the shoes.
"So you get that weird s—t happening here with some of these cutting-edge brands and concepts."
LA Alternative
That Stüssy picked something outside of Los Angeles—nowhere near Fairfax Avenue, a mecca for streetwear fans, or La Brea Avenue, what's now perceived as the cooler alternative to the aforementioned Disneyland for hypebeasts—for its only Archive concept, had to have said something.
The firm counts only 4 other locations in the U.S.
For Chase, it was the area's way of solidifying a critical mass of street and skate brands, and signals retail's continued reinvention in an area that itself is undergoing an evolution.
"I noticed a trend of downtown Santa Ana becoming a hub for art, streetwear, food and culture," said Eric Phan, Chief Brand Officer at Diamond Bar-based specialty retailer Bait.
"I took a trip down to check it out and was amazed at how much the scene had changed over the years. A couple of streetwear stores started moving in so thought we would be able to fit in and complement each other. What really sold it for me was walking to the food court across the street. So many strong choices and well curated."
Phan said the 2,600-square-foot Bait store on 4th Street, while only recently having opened, has done surprisingly well.
"We've had some new usuals cruise by and make some big purchases," he said. "I'm surprised our collectibles market is so strong down here. I thought it would be more apparel and footwear, but collectibles has been the main driver. [I'm] excited to see how the store performs as people start to hear about us."
Hyped, Hip Roster
Bait and Stüssy's Santa Ana shops are joined by sneaker and streetwear reseller Rif OC. On the same street is a 1,000-square-foot permanent pop-up space for artists, brands and product releases. Streetwear line Slushcult opened a bodega-inspired concept just a few steps away, also earlier this month. Shoe Palace remains on the block as does skate shop Nothing Usual, or Not Us, which, aside from hard goods, is also a purveyor of apparel and accessories brands.
A nearby alley totaling about 5,000 square feet will be converted into an independent skate park, a $250,000 project paid for by the Chase family and gifted back to the city, with an expected completion date set for next spring or summer.
"That's a legitimate roster of names now," Chase said. "We're doing pretty well, so it's getting that traction. Do we need more of it? Do we need that critical mass? Yes. No question about it, but if you were to tell me five years ago that I could have Stüssy, Rif and Bate, I would tell you 'You're crazy.'"
"I'm still shocked we were able to pull it off. So I think that sends a message of credibility of what's happening down here and the direction things are going. Where else can you have High Streets down here [in Orange County]."
'Real' Downtown
It's a good question with much of Orange County's retail scene dominated by traditional indoor malls, lifestyle centers, big box retailers and chain concepts.
There's never been a better time to be a property owner peddling Main Street real estate in a cool, up-and-coming area marketers dub authentic.
"This is a real, urban downtown. These are historic buildings. These are not like we just built this," Chase said underscoring the point.
"There's authenticity to it and I think for young people that goes a long way."
It did for Slushcult, the Orange County brand sold at Zumiez, Urban Outfitters and Active Ride Shop, which chose Santa Ana for its first-ever retail store, a mini mart-themed shop currently open Fridays through Sundays.
The brand—whose founder has sought anonymity, in a bid to keep fans focused solely on the company's offerings—said Santa Ana felt "like home" and is unique from other communities with the plethora of events.
"In my industry, most companies try to do everything in major cities, so the obvious choice for most people I know would be to open a shop in L.A. near Fairfax, Melrose or La Brea," the brand's founder told the Business Journal. "Those areas are so over saturated with stores and events, that we would have been lost there. Luckily, for us, the internet has changed a lot of that old mentality of 'I have to be in L.A./New York' to be successful."
"Now, a cool business in a smaller town can be just as successful as a larger brand in a huge city."
Next Gen of Shoppers
Just a handful of years ago, many were still on the fence about downtown Santa Ana's changes—calling it out as gentrification.
The Chase family—Ryan's father Irving Chase is a longtime property owner in the area—views it as change forced upon them with the change in consumer shopping habits. Where the area had at one time, and successfully so, serviced a mostly Latino customer base for everything from quinceañera dresses and rosaries for baptism gifts, the generation after that batch of shoppers moved away from 4th Street to the area's malls and power centers, leaving property owners scrambling to reinvent themselves and making way for this latest evolution of downtown.
The streetwear brands join an existing roster of businesses to the area such as Playground owner and Chef Jason Quinn's regional draw, so popular it's even hosted guests flown into town on private jets.
The restaurant opened five years ago and has expanded just as many times to now total some 15,000 square feet. LibroMobile sells zines and books not typically found in major book stores. Programming on the weekends has created even bigger draws, such as Savor Santa Ana.
"I started looking at other downtown areas and what they were doing and it was all tied to art, because art is food. It's fashion. It's film. It's music," Chase said.
"When I realized art was the guiding force behind all of it, I was like 'OK, how do we assemble that down here to make it a destination because you've got to be unique to survive and differentiate yourself, especially now."
The cluster of new businesses in Santa Ana has ramped the number of inquiries Chase now receives from prospective tenants. That's a far cry from how it used to be when he was first put in charge of his family's properties in downtown.
"I joke five years ago I was begging people to come," he said. "Now, they're begging me in a lot of ways. There's obviously everything in-between, but I have a lot more selection than I did before. I definitely have been getting a lot of interest, but I'm not willing to take just anything at this point."
He's also not willing to do the same old kinds of deals. Instead, Chase chooses to work with individual tenants to make sure they're getting what they need to create a long-term partnership.
"Because the proof of what's happening in the area, rents are being pushed, but part of my philosophy is balancing rents only because I want people to succeed," Chase said. "I'm not trying to maximize rents to the point where there's a lot of turnover. I'm trying to make it so these guys stay long term. If you want to create an experience like here where it's an up-and-coming area, you have to do things different."
"There's some people that have screwed me and you know what? I'll be screwed again, but I can sleep at night. A lot of landlords wouldn't let themselves get screwed by anyone. I'm not going to go after mom and pops. Now, if Walmart doesn't pay their rent, I'm going to go after Walmart. That's just business. But down here, it's not as simple as that."
Incubator
And that's the point, Chase said, as he sits in the 4th Street Market food hall—another newer concept to the area—on a recent weekday afternoon. It's starting to fill up now with the lunch crowd.
Behind him is a window into the East End Incubator Kitchens, commercial spaces for startup restaurateurs to rent and test out their artisanal, catering or other concepts. The thinking behind the kitchens is similar to the thought behind what Chase hopes for the broader downtown.
"I want it to be a thing where young entrepreneurs, young startup artists have an opportunity to showcase themselves," he said. "That's what this place is all about. It's an incubator for concepts."