Carrick Capital Exits 3 Companies
FINANCE: SOME VALUATIONS 'NOT SUSTAINABLE'
Monday, November 18, 2019
Share this article: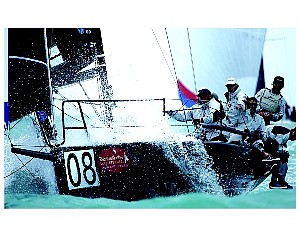 Carrick Capital Partners LLC in the past 90 days has successfully exited its first three portfolio companies.

Now, the private equity firm that focuses on software, tech firms, and tech-enabled service organizations has a big problem—finding more investments at reasonable prices.
Fast-growing software companies are receiving valuations of 10 to 15 times revenue, compared to prior averages of five to seven times revenue, according to Carrick Capital co-founder Jim Madden, who works out of the company's headquarters in Newport Beach.
"When we're selling, we're the beneficiary," Madden said.
"As we're looking to make new investments, we're having to look through more companies. Some of the prices are just not sustainable.
"There is a ton of capital out there," he told the Business Journal.
Madden first rose to prominence by founding Exult Inc., an internet-based human resources firm that he sold for about $900 million to Hewitt Associates in 2004.
In 2012, he co-founded Carrick, which has raised $800 million. The firm typically invests in software companies with annual sales of $20 million to $100 million and organic growth topping 15%.
Among its 13 current portfolio companies is Mavenlink Inc., an Irvine-based company whose revenue is growing up to 50% this year by providing software for service companies to streamline their project workflows.
Mavenlink in April secured a $48 million Series E funding round co-led by Carrick and Goldman Sachs Growth Equity.
Mavenlink's Chief Executive Ray Grainger in September won a Business Journal Innovator of the Year award.
The Big Sales
Carrick's three recent exits are:
• Carrick in 2016 made a $50 million investment in InstaMed, which makes software that connects consumers, providers and payers for healthcare payment transactions.
While InstaMed is based in Philadelphia, its co-founders Chris Seib and Bill Marvin have worked for at least a decade in Orange County, including maintaining a Newport Beach office.
Its sale contest attracted 30 bids, half of which were from larger companies and the other half from larger private equity firms.
JPMorgan eventually won, paying more than $500 million, according to CNBC.
"Having JPMorgan buy our company made me feel good," Madden said.
Carrick reported an approximately 35% internal rate of return and a 2.7 multiple of invested capital from the deal.
InstaMed processed $94 billion in healthcare transactions last year. JPMorgan said about $3 trillion is spent annually on healthcare, which has "significant transaction friction and inefficiency."
• Carrick's first investment was $28 million in 2013 in San Francisco-based Axiom, which has grown from a business that supplys lawyers to companies on demand to a provider of legal software services to larger businesses.
The firm, which reported $360 million in revenue in 2018, comprises 2,000 lawyers, process engineers and technologists that serve over half the Fortune 100 across 14 offices and five global centers.
Earlier this year, Axiom split into three separate entities: Axiom, Knowable and Axiom Managed Services.
After the split, the remaining part of Axiom was preparing to go public when it received unsolicited offers from large private equity firms.
Permira, a European private equity firm with about $47 billion in assets under management, made an undisclosed investment that Axiom described as "significant" and it has now dropped its IPO plans. In 2014, Permira bought a controlling share for $200 million in online legal service provider LegalZoom, which now has a $2 billion valuation.
The Axiom investment produced a 22% net internal return for Carrick.
• A few months after it spun off from Axiom, Knowable entered into a joint venture with legal information provider LexisNexis Legal & Professional, which is part of Relx PLC.
Knowable combines proprietary machine learning tools with legal subject matter expertise to analyze every quarter about 25 million contract data elements, converting archaic legal language into structured data to provide portfolio level views of risk, obligations and entitlements.
Carrick, which sold 90% of its stake in Knowable when the joint venture was formed, reported a 35% net internal rate of return and a sixfold multiple of its investment.
Seeking OC Investments
"It feels good" to sell the three companies, Madden said. "All three had really good returns."
In the past year, Carrick has grown its workforce 50% to 30 employees, including nine at its Newport Beach headquarters.
Madden said he's currently looking at seven Orange County-based companies that he declined to reveal.
"We are hiring in Orange County," Madden said. "We hope to invest in Orange County."