SPORTS: RAJ FAMILY HOME HOSTS CEREMONY
Bill Russell Gets HOF Ring in OC
Monday, November 18, 2019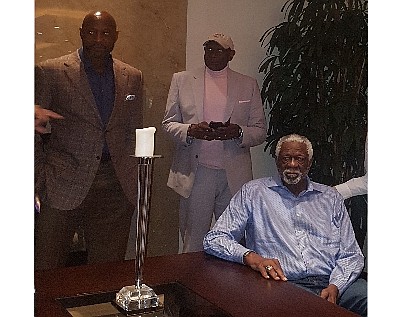 Often lost in the local and national debate over who's the best basketball player ever, an argument between current Laker LeBron James and Michael Jordan, one hoops legend with a more impressive résumé is often overlooked.
Bill Russell, counting 11 rings as a player with the Boston Celtics—two of those as a player-coach—is the winningest player in the NBA, if not the greatest.
Following an unexpected and intimate ceremony in Laguna Beach last week, surrounded by a number of all-time great players, local business execs and sports team owners, Russell has one more piece of jewelry to his name: a long overdue ring from the Naismith Memorial Basketball Hall of Fame.
Russell was selected to the HOF in 1975, but he declined to participate in a formal induction ceremony.
Reasons for his actions were vague at the time and stayed that way for decades. Russell, a civil rights activist, said last week the decision largely reflected the HOF's lack of recognition of other black players like Chuck Cooper who came to the league before him, and who he felt paved the way for the league's growth.
"I felt others before me should have that honor," Russell said via Twitter on Friday. "Good to see progress."
Kings' Local Court
A Thursday night dinner at a residence of Raj and Marta Bhathal, whose family has a large ownership stake in the Sacramento Kings, touted a dinner with ex-NBA stars such as Rick Barry, Elgin Baylor, Alonzo Mourning, Gary Payton "and many more."
It might be the first time Russell's presence at a basketball event was relegated to being one of "many more," and the same could be said for Bill Walton, Jamaal Wilkes and countless other basketball greats who attended the event, which is part of an occasional HOF-sponsored get-together that it hosts.
Also on the agenda for the group was a Friday golf outing at Dana Point's Monarch Beach Resort, the luxury hotel that numerous hospitality execs tell the Business Journal is nearing a sale and likely switch in brands to a Four Seasons.
Attendance at this year's HOF event was up, officials said, partly due to staging it along OC's coast, and late news of the 85-year-old Russell's attendance.
Russell relented on his stance after the HOF in September inducted Cooper, who died in 1984.
Cooper was the first black player drafted into the NBA by the Celtics in 1950. Russell was drafted six years later, and had a 13-year career in the league.
"We've made so much progress … but we have more to do," said HOF President John Doleva, when presenting the ring to Russell.
The ring's new—they weren't made to HOF recipients until 1978, Doleva said.
"It's such an honor," Doleva said of the formal presentation, which included heartfelt speeches from ex-Miami Heat star Alonzo Mourning and Golden State Warriors legend Rick Barry.
OC's Global Role
Making peace with the NBA's past greats come as the league continues to aim global with its future business opportunities.
Alex Bhathal told the event's crowd of the league's growth into new international markets; the Kings played a pair of preseason games in India last month, the first time the country had hosted NBA games.
India's role could become a more important market for the NBA going forward, given the recent tension involving China and league officials' comments over government protestors in Hong Kong.
Alex and his sister Lisa Bhathal Merage—their parents are Raj and Marta—run Raj Capital, the Newport Beach asset management platform of the Bhathals, one of Orange Country's wealthier families.
One of the business lines under that umbrella is RevOZ Capital, a real estate firm focused on opportunity zone investments.
Sacramento is expected to be a hub of activity for the company, due to the Bhathal family's ownership stake in the Kings basketball team, and its role in several related real estate ventures near the new basketball stadium in that city.
Alex is also an investment partner in Newport Beach's Rx3 Ventures, a venture capital firm whose execs have ties to Roth Capital; execs from those firms attended the Thursday night event, as did Bob Olson, chief executive with Newport Beach's R.D. Olson Development and Ivo Tjan, chief executive of CommerceWest Bank, among others.