Midday Stock Roundup
Tuesday, November 12, 2019
Share this article: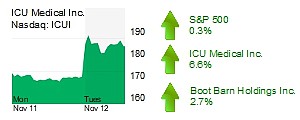 The S&P 500 rose 0.3% to 3,095.91 in midday trading.
The Dow Jones Industrial Average rose 0.1% to 27,730.67.
The Nasdaq rose 0.5% to 8,502.38.
The yield on a 10-year Treasury bond fell 1% to 1.9%.
The price of gold decreased 0.2% to $1,454.
The price for a barrel of oil rose 0.1% to $56.94.
HEALTHCARE
Infusion therapy device maker ICU Medical Inc. (Nasdaq: ICUI) in San Clemente rose 6.6% to $179.38 a share for a market cap of $3.7 billion, after reporting third-quarter earnings and revenue yesterday that beat analysts' estimates.
Irvine-based heart valve maker Edwards Lifesciences Corp. (NYSE: EW) rose 2% to $239.35 a share for a market cap of $50 billion, while medical software and services company NextGen Healthcare Inc. (Nasdaq: NXGN), also based in Irvine, was down 1.4% to $16.97 for a market cap of $1.1 billion.
RETAIL
Western gear retailer Boot Barn Holdings Inc. (NYSE: BOOT) in Irvine increased 2.7% to $42.42 a share and a $1.2 billion market cap. Zacks Equity Research today said the stock may be on the "right path" upward.