Midday Stock Roundup
Monday, November 11, 2019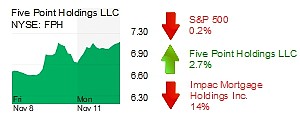 The S&P 500 was down 0.2% to 3,086.30 during midday trading.
The Dow Jones Industrial Average rose 0.1% to 27,694.18.
The Nasdaq dipped 0.2% to 8,458.18.
The yield on a 10-year Treasury bond increased 0.5% to 1.94%.
Gold was off 0.4% to $1,457.
Crude oil pricing decreased 0.5% to $56.98 a barrel.
REAL ESTATE
Five Point Holdings (NYSE: FPH) is up 2.7% to $6.81 and a $1 billion market cap. Shares rose after the Irvine developer reported better-than-expected third quarter revenue on Friday.
Aliso Viejo homebuilder New Home Co. (NYSE: NWHM) was down 5.5% to $4.43 and an $89 million market cap. Shares are down 36% since the start of the year, but are up 26% since reaching a 52-week low in August.
Impac Mortgage Holdings Inc. (NYSE: IMH) fell 14% to $5.39 and a $116 million market cap. Shares for the Irvine-based lender have fallen 27% since it reported earnings on Nov. 7. The shares are still up 46% since the start of the year.