Midday Stock Roundup
Thursday, May 23, 2019
Share this article: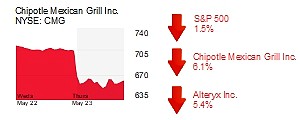 Major indexes continue to fall in face of increased trade tensions between the U.S. and China that is appearing to be a protracted standoff. Yesterday, U.S. placed new export restrictions on Chinese telecom company Huawei Technologies Co. Trade talk can only continue when U.S. adjusts its "wrong actions," according to Gao Feng, a spokesperson for China's Ministry of Commerce, in a statement today.
The S&P 500 fell 1.5% to 2,813.15, the Dow Jones declined 1.5% to 25,387.56 and the Nasdaq dropped 1.8% to 7,611.99.
The yield on a 10-year Treasury saw a 3.8% drop to 2.3%.
The price of gold climbed 0.9% at $1,286.
The price of oil lowered 6.2% to $57.64 a barrel.
RESTAURANTS
Shares of Chipotle Mexican Grill Inc. (NYSE: CMG) fell 6.1% to $663.20 for an $18.4 billion market cap after BMO Capital analyst Andrew Strelzik warned of "underappreciated" risks associated with the outbreak of African swine fever that could drive up prices for pork. Strelzik also downgraded shares of the fast-casual Mexican food chain stock to underperform from buy and slashed his stock price target to $620 from $797.
TECHNOLOGY
Irvine-based software maker Alteryx Inc. (NYSE: AYX) was down 5.4% to $84.40 for a $5.3 billion market cap. It was the biggest decline among eight peers, which all were also down today. The S&P 500 Information Technology sector also dropped 2% to 1,279.05 as the U.S. and China trade tensions have weighed on the technology sector in particular. Shares are still up 44% year-to-date.