Jochim Turned Great Park Development Dreams Into Reality
FIVEPOINT CO-COO HELPED BRING IRVINE SITE TO LIFE
Thursday, May 23, 2019
Share this article: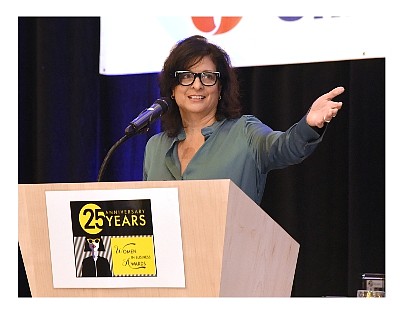 In 2009, Lynn Jochim was among the first employees at an upstart real estate land development firm that started in the teeth of the Great Recession, one with a tenuous hold on Orange County's largest and most coveted new development sites in years, the former El Toro Marine base in Irvine.
Ten years later, after being a driving force in the development of one of the country's fastest-growing and more profitable master planned communities, she's arguably the most powerful woman in OC's real estate community, and stands among the ranks of the area's top real estate execs, period.
The corporate growth of FivePoint Holdings LLC (NYSE:FPH) — now with its finances in a strong position and a market value approaching $1.3 billion—over the past decade has been rewarding, Jochim said.
More gratifying, she emphasized in an interview last week, is the growth in the communities FivePoint builds at, in particular the former Marine base, now called Great Park Neighborhoods, which she has been essential to getting ramped up.
More than 4,000 homes have been built there and sold to date, and thousands more are in line to be built over the coming years.
Its latest community, the 33-acre Novel Park, opened its models last weekend. It will hold 536 homes when built out by Newport Beach-based William Lyon Homes.
Those homes have gone up alongside a slew of new schools, offices, sports parks, and other attractions for OC's fastest-growing city.
"It's such a rewarding feeling to build these developments with parks, schools and homes that leave a positive mark in each of the communities we are in," Jochim said.
She's not the only family member who has enjoyed seeing the growth of the Great Park Neighborhoods and its surrounding amenities over her term at the company.
"My kids have tested every park, and now attend concerts" at the new FivePoint Amphitheatre, which opened last year in Irvine, said Jochim, a mother of two.
Jochim was one of five honored at the Business Journal's 25th Women in Business awards event, held on May 8 at Hotel Irvine (see other profiles, pages 1, 4, 6 and 10).
20-Year Partnership
When Chief Executive Emile Haddad—then chief investment officer at Lennar Corp., and tasked with building the company's California operations—was creating the spinoff firm that would ultimately become FivePoint, Jochim was among the first group of people he took with him.
It wasn't the first time Haddad had hired Jochim, who grew up in Petaluma, a small town in Northern California where her father worked in real estate and agriculture.
As the son of immigrants, her father taught his daughters how to raise cattle and read Pink Sheets, while Jochim's mom considered how to raise three girls "during the transitional time that was the late '60s to early '80s," she said.
"It was a time when women were taking a look at new roles and opportunities that my mother didn't have," Jochim said. "She ended up going to college at the same time as us."
After graduating from California State University-Sacramento, she and her two sisters formed a real estate consulting business that worked with the Resolution Trust Corp. to liquidate commercial assets and loans following the savings and loan crisis of the 1980s.
She went on to start the Building Industry Association's Women's Education Council, but had bigger designs—she wanted to put her real estate entitlement background to good use.
That led to an interview with Lennar, and Haddad, about 20 years ago.
It wasn't her experience that stuck out to Haddad at their first meeting.
"I thought she had the right energy, the right attitude and she took ownership," Haddad said. "My life has trained me to go on instinct, and my instinct was not wrong."
At Lennar, Jochim would quickly climb the ranks, to become president of the company's San Francisco Bay Area division.
Then, in 2006, Haddad called again.
He asked her to "come down and run a project called Heritage Fields," she said.
That was the former Marine base in Irvine, which Lennar had just bought in one of the largest land deals OC has ever seen.
The Great Recession soon put Lennar's development plans in Irvine in flux, leading to the 2009 spinoff. Haddad started FivePoint, which along with the OC site is developing L.A. County's Newhall Ranch—where Jochim is also actively involved, as well as sites in Northern California. Lennar remains an investor.
Partners
Haddad refers to Jochim as his complement, overseeing the implementation of company plans and helping him execute grander ideas at FivePoint.
This partnership has led to a land development business expected to result in 40,000 homes and 23 million square feet of commercial space, and counting. It's the largest developer in coastal California.
That housing figure includes the Great Park Neighborhoods, which recently received entitlements for an additional 1,056 homes on its land, bringing the total allotment to 10,500 homes along with commercial space.
FivePoint is also largely responsible for the build-out of the city-owned Orange County Great Park, with hundreds of millions of dollars spent building up the area's base of amenities for the surrounding community.
That success has led Jochim—who's also on the USC Lusk Center for Real Estate executive committee—to take on a new role over the past couple of years.
She's now the boss of Haddad's daughter, Serene, FivePoint's strategic planning manager.
"I wanted my daughter to get a seat at the table and earn respect in an industry that is dominated by men, and I couldn't think of a better role model than Lynn," Haddad said.