SMART GLASSES, TRAINING SYSTEMS
Brooke Brings Augmented Reality to Warrior Class
Wednesday, May 22, 2019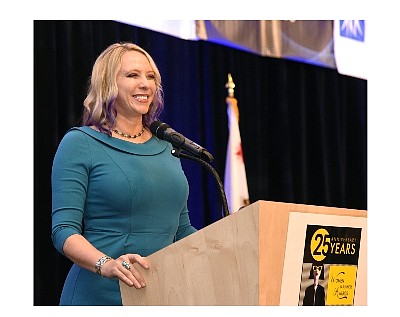 On Sept. 11, 2001, Marlo Brooke woke up to a panicked phone call from her mother, who thought she was flying to Washington, D.C. that morning.
That was the day she decided to start a company "to serve those who serve us and protect us," Brooke said.
Less than two years later, the California State University-Long Beach grad had founded Huntington Beach-based information technology company Avatar Partners Inc. at her kitchen table.
She's been its chief executive since.
The 50-person company develops technology software and products primarily for military and defense applications.
Avatar's products include augmented reality and virtual reality training systems—similar in many respects to Palmer Luckey's Anduril Industries Inc.—as well as video and multimedia instruction and visual technical manuals.
Its customers include the U.S. Navy, for ARMA, or Augmented Reality Maintenance Aid, a program that is currently being contracted for use on its F/A-18 Strike Fighter aircraft.
The software allows Navy mechanics to look at airplanes using a pair of smart glasses, and a phone or tablet, and troubleshoot issues or see if maintenance needs to be performed. It then gives the user a step-by-step guide for how to fix it.
Brooke said it has the potential to reduce maintenance-related errors down to zero.
Similar technology is in development for the U.S. Coast Guard's 87-foot marine protector patrol boats.
"Our trademark is simplifying complex systems. We've built software systems for both planning and building that helps make users lives easier," Brooke said.
"From there, we look at how that can improve profit margins and make more revenue for the company."
Brooke expects revenue between $12 million and $16 million this year.
She was one of five winners at the Business Journal's Woman in Business award luncheon, held on May 8 at Hotel Irvine (see other profiles, pages 1, 4, 8 and 10).
'Business is War'
At the event, she said being a single mother of two and one of the few women-owned defense contractors just makes her even more determined to succeed.
"Business is war, however it's a war that both sides have to win, and women are naturally peacekeepers," she said.
After starting her company with small subcontracting jobs in 2003, Brooke said she had trouble getting a loan, so she built the company by being extremely frugal, and declined to take a salary for several years.
"We had no funding, no one would give us a dime. I was advised not to start the company multiple times by multiple people that I thought I respected. It has not been an easy ride," she said.
Prev Next