GREAT PARK CANCER CENTER IN IRVINE MOVES AHEAD
Walker Speaks of Tenacity, Duty to Serve
Tuesday, May 21, 2019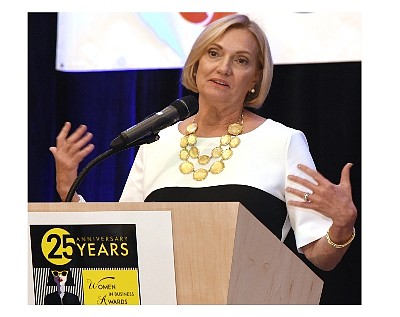 Annette Walker is already one of Orange County's most prominent business executives, with more than 30 years in the healthcare industry, including a top role at one of the area's top healthcare systems.
Then an even bigger challenge came calling last year: building Orange County's first dedicated cancer center, a local outpost of Duarte's famed City of Hope.
The decision was easy for Walker, who said her plan is always to go "where you make the biggest contribution."
Her decision could ultimately have an impact on hundreds of thousands of area residents, when factoring in cancer patients and their loved ones.
The goal of City of Hope "is to bring the best cancer care to Orange County and its 3.2 million residents, of whom one in three is likely to receive a cancer diagnosis sometime in their lives," according to Walker.
Hiring Walker was an easy choice for City of Hope, too.
Noting her "accomplished career improving the health of communities," City of Hope Chief Executive and President Robert Stone last year called Walker, "the obvious choice to lead this endeavor."
"[She] knows the value of bringing technologically advanced care, physician expertise, and clinical research closer to patients, families and local employers," he said.
Walker, who now serves as president of City of Hope Orange County, was one of five winners at the Business Journal's 25th annual Women in Business Awards held at Hotel Irvine on May 8 (see other profiles, pages 1, 6, 8 and 10).
Impact
Walker took on her new role last May; it marked a return home of sorts.
Previously, she was president of strategy for Renton, Wash.-based Providence St. Joseph Health, which has 51 hospitals, 829 clinics and more than 119,000 caregivers across seven states in the western U.S.
While spending a fair amount of time in Washington and OC, she spearheaded the creation of Wellness Corners, a new concept that brought medical and related services to "where people live, work and play."
She arrived in 2005 when St. Joseph "put a stake in the ground and said, 'We see healthcare changing, and in order to really make a difference we have to get more proactive about health and wellness and get on the front end of disease development.'"
The proactive approach she undertook to bring healthcare services closer to OC's base of patients while at her prior job earned her a Business Journal Innovator of the Year award in 2016. It also got the attention of her new employer.
Prev Next