Taco Bell Plans Palm Springs 'Hotel'
Thursday, May 16, 2019
Share this article: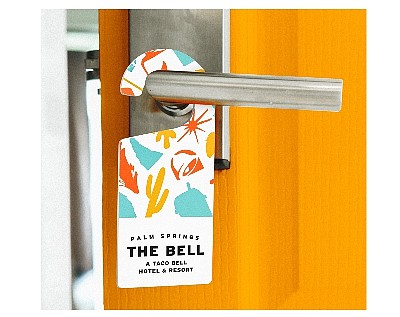 Taco Bell Corp.'s next marketing zinger is a "Tacoasis" in Palm Springs for five days in August.
The fast food chain plans what's functionally an extended pop-up, temporarily taking over an unnamed desert hotel at one of the hottest times of the year.
The Irvine-based company, the biggest OC-based restaurant chain with about $10 billion in systemwide sales, drops new envelope-pushing marketing every so often.
It presented a futuristic dining experience at San Diego Comic-Con last year and in 2016 issued a press release prior to Super Bowl 50 with several redacted portions, as if the material were top-secret.
The Bell: A Taco Bell Hotel and Resort is one of the more immersive efforts it's envisioned, to include "Bell"hops fire sauce packet pool floaties, and "Taco Bell-inspired nail art, fades and a braid bar," a press release said.
Reservations for a stay open next month.