Taco Bell India: 600 Franchised Units
Thursday, May 16, 2019
Share this article: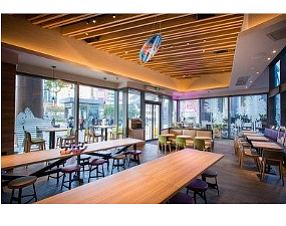 Taco Bell Corp. expanded its franchising deal with India-based Burman Hospitality Pvt. Ltd., which plans to open 600 locations in its home country over the next 10 years.
The Irvine-based fast food chain, a unit of Yum Brands Inc. (NYSE: YUM) in Louisville, Ky., began working with Burman four years ago. Burman now has about three dozen locations open in several cities in India.
Taco Bell has said its international growth—some 90% of its 7,200 locations are in the U.S.—will come via deals with fewer large operators in each country, a reversal of several years of smaller operators and slower growth.
Burman family business interests have included franchising Subway sandwich shops, as well as insurance, financial services, consumer goods and private equity investing.
In the last two years, expansion aims have been laid out for Thailand, Australia, New Zealand, Brazil and Spain.
Taco Bell is the largest OC-based restaurant chain with about $10 billion in systemwide sales.