Midday Stock Roundup
Wednesday, May 15, 2019
Share this article: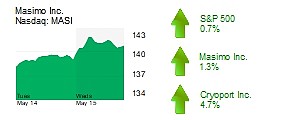 The S&P 500 was up 0.7% in midday trading to 2,852.76.
The Dow Jones Industrial Average rose 0.5% to 25,653.78.
The Nasdaq jumped 1.1% to 7,819.50.
The yield on a 10-year Treasury bond dove 1.8% to 2.38%.
The price of gold ticked 0.1% higher to $1,298.
The price of oil was up 0.3% to $61.95 a barrel.
HEALTHCARE
Masimo Corp. (Nasdaq: MASI) in Irvine rose 1.3% to $140.78 and a $7.5 billion market cap. The device maker's shares are up 17% in the last month, a period which included a well-received first quarter report, and seven-fold over the last five years. Masimo was the second-best performer today among a group of 19 peers.
Cryoport Inc. (Nasdaq: CYRX), also in Irvine, climbed 4.7% to $16.56 and a $507 million market cap. Shares in the health sciences shipping and logistics provider are up 70% year-to-date. The S&P 500 Health Care index also rose 0.5% today.