Midday Stock Roundup
Monday, May 13, 2019
Share this article: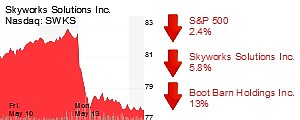 Major U.S. indexes plunged more than 2% apiece in midday trading after China said it will raise tariffs on U.S. goods.
The S&P 500 and the Dow Jones Industrial Average both dropped 2.4% in midday trading to 2,810.97 and 25,319.31, respectively, while the Nasdaq fell 3.4% to 7,650.59.
The yield on a 10-year Treasury bond was down 2.4% to 2.40%.
The price of gold increased 0.9% to $1,299.
The price of a barrel of oil slipped 0.8% to $61.17.
TECHNOLOGY
Irvine-based Skyworks Solutions, Inc. (Nasdaq: SWKS) is down 5.8% to $77.81 and a $13.4 billion market cap. Shares for the chipmaker, which supplies Apple Inc., have fallen 22% in the past year, with a 52-week low of $60.12. The company's revenues in the first quarter were down 11%, partly due to softness in Chinese markets.
RETAIL
Boot Barn Holdings Inc. (NYSE: BOOT) plummeted 13% to $25.45 and a $720.9 million market cap. Shares for the Irvine-based western wear retailer are up 51% since the start of the year.