Midday Stock Roundup
Thursday, May 9, 2019
Share this article: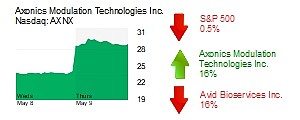 Major indexes fell after President Donald Trump said China "broke the deal" at a rally yesterday, fueling concerns the U.S. and China will be unable to reach a trade agreement before new tariffs go into effect at midnight tonight.
The S&P 500 was down 0.5% to 2,865.47, the Dow Jones fell 0.7% to 25,779.70 and the Nasdaq declined 0.6% to 7,894.66.
The yield on a 10-year Treasury saw a 0.7% drop to 2.46%.
The price of gold was up 0.3% at $1,285.
The price of oil dropped 0.7% to $61.66 a barrel.
HEALTHCARE
Axonics Modulation Technologies Inc. (Nasdaq: AXNX) was up 16% to $28.02 for a $780 million market cap. The Irvine-based company, which develops implantable devices for the treatment of urinary problems, yesterday reported first quarter net sales doubled to $1.1 million from the fourth quarter and compared to no sales a year ago. The average estimate of three analysts was $480,000 in first quarter sales. Its device is pending U.S. FDA approval. Shares have climbed 60% year-to-date.
Avid Bioservices Inc. (Nasdaq: CDMO) declined 16% to $3.75 to a $210 million market cap following the announcement of the resignation of Chief Executive Roger Lias. He is succeeded by Richard Hancock, who will serve as interim president and CEO while the company search for a permanent candidate. Lias became CEO in December of 2017.
TECHNOLOGY
Costa Mesa-based Veritone Inc. (Nasdaq: VERI) jumped 16% to $7.18 for a $141.4 million market cap. The company yesterday reported revenue of $12.1 million, above the high end of its forecast and topping the average estimate of $11.6 million of five analysts surveyed by Yahoo! Finance.