Women in Business Honored
Wednesday, May 8, 2019
Share this article: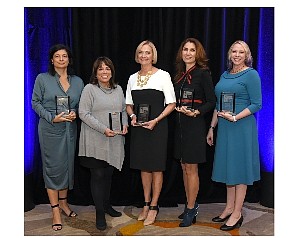 Orange County's business community came together to celebrate five honorees at the Business Journal's 25th annual Women in Business Awards luncheon on Wednesday at Hotel Irvine.
The award recognizes five exceptional businesswomen in OC. Aston Martin Americas President Laura Schwab delivered the keynote.
Selected from 200 nominees, the five winners were:
Marlo Brooke of Avatar Partners Inc., a Huntington Beach-based software company
Nazli Azimi of Bioniz Therapeutics Inc., a biopharmaceutical firm in Irvine
Annette Walker of City of Hope OC in Irvine, a Duarte-based nonprofit operator of cancer care clinics, research centers and manufacturing facilities
Lynn Jochim of FivePoint Holdings LLC, a mixed-use community developer, owner and manager in Irvine
Rosemarie Smith of Systems Source Inc., a Newport Beach-based full-service commercial interiors firm
The winners will be profiled in the May 20 edition of the Business Journal.