Midday Stock Roundup
Originally published May 7, 2019 at 10:34 a.m., updated May 7, 2019 at 10:34 a.m.
Share this article: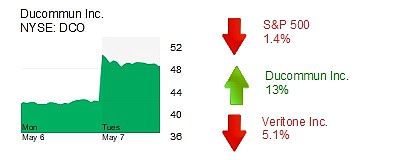 All major U.S. indexes fell more than 1% in midday trading amid heightened concerns of a looming U.S. trade war with China pressed by President Donald Trump.
The S&P 500 was down 1.4% in midday trading to 2,890.65. The Dow Jones Industrial Average fell 1.6% to 26,029.70.
The Nasdaq sank 1.7% to 7,983.76.
The yield on a 10-year Treasury bond dropped 1.6% to 2.6%.
The price of gold was up 0.1% at $1,285.
The price of a barrel of oil decreased 1% to $61.62.
TECHNOLOGY
Shares of Santa Ana-based Ducommun Inc. (NYSE: DCO) surged 13.1% to $48.15 and a $550 million market cap. Shares had hit a 52-week high of $50.10 earlier in the trading session after the aerospace and defense engineering and manufacturing firm reported sales and earnings yesterday that topped Wall Street expectations.
Costa Mesa-based Veritone Inc. (Nasdaq: VERI) fell 5.1% to $6.08 and a $120 million cap. The company, which is trying to crack into the artificial intelligence segment, is expected to release first quarter financials after the close of trading Wednesday and announce a loss of $0.85 per share, or nearly 5% worse than a year earlier.