OC 50 The Lifesavers
Monday, May 6, 2019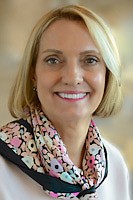 ANNETTE WALKER
President
City of Hope, Orange County
Irvine
Born in Pomona
Age: 62
Lives in Coto de Caza
WHY: Healthcare leader tapped to build City of Hope, Orange County, a 21st-century approach to treating and curing cancer. Cost estimated at $200 million.
HOW: Named to post a year ago. Previously served as president of strategy of Providence St. Joseph Health and chief executive of St. Joseph Health; while there oversaw development of Wellness Corners throughout Orange County.
RECENT: Bought building near Newport Center to hold first OC treatment center for City of Hope, while larger campus near Orange County Great Park is built in coming years. Newport Beach location will keep OC residents needing treatment from making long commute to L.A. campus. Emphasis on raising funds for upcoming Irvine campus.
FAST FACT: Named one of the top 25 women in U.S. healthcare by Modern Healthcare magazine.
QUOTABLE: "Having spent her accomplished career improving the health of communities—especially in Southern California—Annette was the obvious choice to lead this endeavor," said Robert W. Stone, president and chief executive of City of Hope.
PERSONAL: Master's degree in health administration from University of Minnesota and Bachelor of Science degree from Loyola Marymount University in Los Angeles. Business Journal's Innovator of the Year winner in 2016. Married, six children.