OC 50 Keeping You Safe: Steve Jones
Monday, May 6, 2019
Share this article: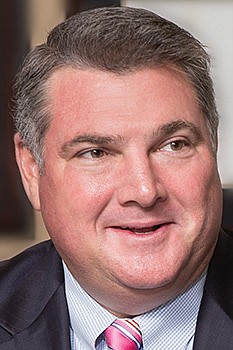 STEVE JONES
Chief Executive
Allied Universal
Santa Ana
Born in Orange County
Age: 50
Lives in Coto de Caza
WHY: Took a company that generated $12 million in 1996 to sales over $7 billion last year. Runs the nation's largest private security force. Workforce of more than 210,000 employees, a bit larger than the size of France's army.
HOW: Bachelor degree in political science from California Polytechnic University-San Luis Obispo, 1992; MBA from the University of Redlands in 2000. Modus operandi in fragmented industry is to identify potential geographical area, acquire a key local security firm, install standard processes and begin local expansion. Biggest merger to date was AlliedBurton Security Services in 2016.
RECENT: February investment from Canada's second biggest pension fund that agreed to buy 40% of privately owned Allied Universal. Deal values Allied at about $7 billion, that figure would be seventh among OC public companies in market cap. Will use investment to fund expansion, including deals in other countries. Investing in technology; sees guards and robots working together "as the wave of the future."
FAST FACT: Published a memoir, "No Off Season," just prior to latest funding deal. Excerpted in Business Journal.
QUOTABLE: "As we laid out the future for the next five years, they agreed and wanted to invest," Jones said of the investment from Caisse de dépôt et placement du Québec.
PERSONAL: Hobbies include coaching his kids in sports, traveling, playing golf and tennis. Favorite thing to do in OC is enjoying great restaurants with friends. A football player in college, he has donated to alma mater and was inducted as an Honored Alumni for Cal Poly Athletics.