Midday Stock Roundup
Thursday, May 2, 2019
Share this article: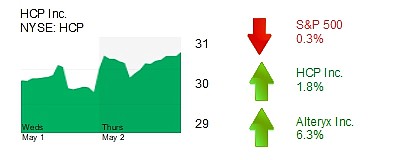 Major indexes fell after Federal Reserve Chairman Jerome Powell's press release yesterday that said the market is vulnerable. "We suspect transitory factors may be at work," he told reporters after the Fed announced its decision to leave interest rates unchanged.
The S&P 500 was down 0.3% to 2,914.98, the Dow Jones fell 0.6% to 26,272.45 and the Nasdaq declined 0.4% to 8,021.42.
The yield on a 10-year Treasury saw a 1.6% uptick to 2.55%.
The price of gold was nearly 1% lowered at $1,272.
The price of oil dropped 0.4% to $61.21 a barrel.
HEALTHCARE
HCP Inc. (NYSE: HCP) was up 1.8% to $30.48 for a $14.7 billion market cap. The Irvine-based healthcare-focused real estate investment trust today reported first quarter funds from operations of 44 cents per share, surpassing analyst consensus of 43 cents. It generated revenue of $436.1 million, missing consensus estimate of $442.1 million and down from the year-ago number of $479.2 million. Share have climbed nearly 13% year-to-date.
Staar Surgical Co. (Nasdaq: STAA) declined 13% to $27.90 for a $1.2 billion market cap on volume four times the daily average of the past three months. The company yesterday reported first quarter sales jumped 20% to $32.6 million and net income of 3 cents a share. While both results topped analysts' consensus estimates, company executives suggested some products may see sales declines in the coming two quarters. The device maker, which recently moved its headquarters from Monrovia to Lake Forest, makes implantable foldable lenses for the eye. The shares are still up 62% from a year ago.
TECHNOLOGY
Irvine-based Alteryx Inc. (NYSE: AYX) was up 6.3% to $92.98 for a $5.7 billion market cap. The data analytics software maker yesterday reported first-quarter revenue of $76 million, up 51% from a year-ago period, and net income of $3 million, or 4 cents per share, exceeding official guidance of $69 million to $72 million and an adjusted net loss of $0.08 to $0.13, respectively. Shares have jumped more than 57% year-to-date.