Duran Eats World Alive to Build United Capital
SECOND RANKED INVESTMENT ADVISORY FIRM IN US
Monday, March 25, 2019
Share this article: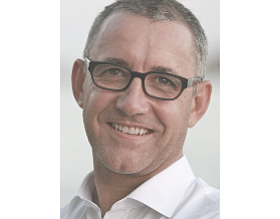 Joe Duran believes wealth management can be delivered to clients with the same consistency as a McDonald's or Starbucks.
So far, his clients have devoured that formula.
Duran began United Capital Financial Advisers in 2005, and has grown the Newport Beach-based firm organically and through acquisitions to more than $46 billion assets under management or under contract.
He has 667 employees in 95 offices and about $220 million in annual revenue. According to Barron's, United Capital is the second-ranked registered investment advisory, or RIA, in the country.
The Business Journal honored Duran on March 12 with an Excellence in Entrepreneurship Award at Hotel Irvine (see profiles of other winners, pages 1, 4 and 6).
"The company's vision is to become the Starbucks of financial advisory firms," Gordon MacLean, a partner at RJI International CPAs, told the audience when announcing the award.
"This individual wants to help people live richly versus dying rich."
It's quite a journey for a poor kid who grew up in a war torn African country.
"None of it would be possible without an incredible country like the United States," Duran said when accepting the award.
A Great Internship
Duran, born in Barcelona, was raised in a poor family in Rhodesia, which became Zimbabwe when he was 12 years old. As a teenager, he worked a number of jobs such as selling hot dogs on the street, managing a clothing factory's late shift and playing disc jockey at weekend parties.
When he was 18, Duran moved to London where he was robbed shortly after his arrival. He made his way around Europe, living the bohemian lifestyle with an earring, a tie-dyed T-shirt and a guitar to play in the park. He eventually met his future wife, Jennifer, who was also in attendance at the awards ceremony.
"She saw something in me," he recalled. "She said, 'You are going to eat the world alive,' and I believed her."
In 1992, he began as an intern at a wealth management firm, earning the minimum wage of $4.25 an hour. He moved up the ladder and eventually became president of Centurion Capital Management with a 15% ownership stake that became lucrative when it was sold to GE Capital for $120 million in 2001. Thirteen years after arriving in America "with nothing," he'd become an American success story.
Entrepreneurial Author
Among his other skills, Duran's written three books, including the New York Times bestseller "The Money Code."
But he's an entrepreneur at heart.
He began United Capital in 2005. Partners Bessemer Venture Partners and Grail Partners LLC own about 50% with the remainder spread among Duran and his fellow employees; Duran declined to disclose his stake.
He saw an opportunity by discussing with clients what they want to do with their lives, rather than merely what investments and returns they should be making. Duran prefers the term "financial life management" to explain "where your money meets your life."
"The industry has been way too focused on money and boring mathematical features—no one else is doing what we are," he said.
"It's not just about the money. Our 650 employees bring heart and care to an industry that is cold."
The firm has since grown to $23 billion in assets under management.
White Label
Since 2016, United Capital has been licensing a white-label software platform to other financial advisories to help them battle robo-advisers, which are algorithm-based applications used by some investors to lower their costs.
Last year, the firm tweaked the white-label pricing to make it simpler and opened the platform to a variety of customer relationship management software offerings.
As a result, the firm's assets more than doubled to $22.5 billion in a four-month span. Duran predicts it will reach $50 billion to $70 billion assets under contract by the end of the year as it begins licensing it to institutional investors, as well as RIAs.
Duran said the licensing unit might one day overtake the wealth management unit in size.
"Our white-label platform is doing incredibly well," he said. "It's unparalleled in the industry."
When accepting the Business Journal's award, Duran praised his employees.
The award "is a reflection of the quality of the work that the team does. Throughout my life, I've been incredibly fortunate to have people by my side do incredible things.
"You need a good idea with great people to help make it real."