Marriott Wraps $32M Redo
Thursday, March 14, 2019
Share this article: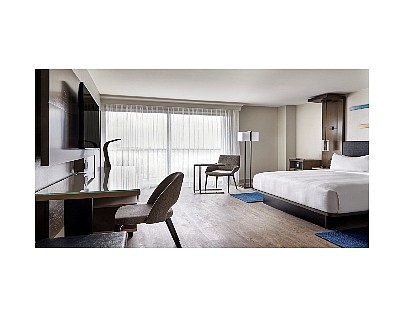 Anaheim Marriott has concluded a two-year, $32 million hotel renovation.
The hotel's 1,030 rooms were redesigned with modern furnishings in grays and blues for its largely business travelers—or "executive nomads" in Marriott lingo.
The renovation also added two new grab-and-go restaurants: Slice Pizzeria and The Market. The two eateries join nFuse Bar + Kitchen, which opened in 2015 as part of a previous, $15 million renovation.
The four-star hotel is on the Anaheim Convention Center campus where Natural Products Expo West—the venue's second-largest show, with more than 85,000 attendees annually at ACC—recently ended. Upcoming events at the center include WonderCon, at the end of the month.