El Pollo Loco Shares Plunge
Thursday, March 7, 2019
Share this article: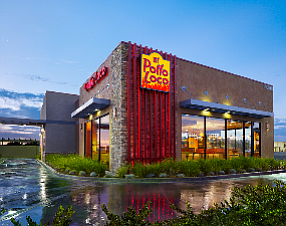 Shares in Costa Mesa-based El Pollo Loco Holdings Inc. fell sharply following its quarterly report, declining more than 15% Friday and dipping below a $500 million market cap.
Some news outlets noted a "soft" 2019 outlook; as a result of $36.3 million in charges related to "multiple class action lawsuits," a company press release said, El Pollo Loco lost $23.4 million in the quarter, compared to a loss of $38,000 year-over-year.
"We recently reached agreements to settle several long-standing legal issues, which help enable us to fully focus on furthering our long-term strategies," president and Chief Executive Bernard Acoca said in the press release.
Excluding the charges, which relate "to our recently reached agreements in principle to settle our securities class action lawsuit and multiple wage and hour class action lawsuits," according to the company, pro forma net income and EBITDA increased in the quarter; revenue and same-store sales also rose.
Loco reported $101 million in revenue, up 6%, in its most recent quarter and same-store sales systemwide up 4.4% in the quarter, with franchised restaurants reporting slightly higher gains than those run by the company. Full-year revenue increased about 9% to $436 million.
El Pollo Loco plans to open three to four new company-owned locations and three to five new franchised restaurants in 2019; it added one new company-owned and six franchised locations in 2018 and had 484 total at the end of December. The chain expects same-store sales increases of 2% to 4% in 2019.
El Pollo Loco is the fifth-largest OC-based restaurant chain—after Taco Bell, Chipotle, BJ's Restaurants, and In-N-Out Burger—with about $840 million in systemwide sales. Revenue differs from systemwide sales when a company operates franchises that contribute only a percentage of their sales to corporate coffers.