Midday Stock Roundup
Wednesday, March 6, 2019
Share this article: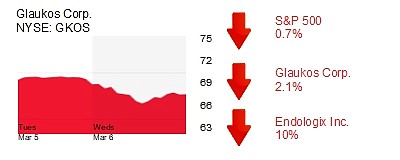 The S&P 500 was down 0.7% in midday trading to 2,770.91.
The Dow Jones Industrial Average declined 0.6% to 25,646.83.
The Nasdaq fell 0.9% to 7,510.73.
The yield on a 10-year Treasury bond plunged 1.5% to 2.68%.
The price of gold ticked up 0.2% to $1,287.
The price of oil dropped 0.9% to $56.04 a barrel.
HEALTHCARE
San Clemente-based Glaukos Corp. (NYSE: GKOS) declined 2.1% to $66.32 and a $2.4 billion market cap. The glaucoma treatment device maker's shares have fallen about 10% this week after reporting a 2018 net loss of $13 million or 37 cents a share, compared with a 2017 net loss of $100,000 or zero cents a share.
Endologix Inc. (Nasdaq: ELGX) in Irvine was down 10% to $5.97 and a $62 million market cap. The share price reflects a post-split price after the maker of devices to treat abdominal aortic aneurysms effected a 1-for-10 stock split yesterday after markets closed.
FINANCE
Santa Ana-based Banc of California (NYSE: BANC) saw a second day of drops after replacing its chief executive. Shares were down 5.7% to $14.93 and a $756 million market cap, and have lost about 13% of their value over the last two trading sessions.