Midday Stock Roundup
Monday, March 4, 2019
Share this article: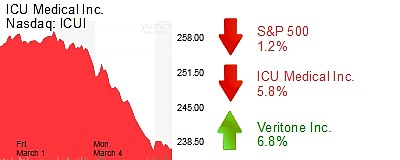 Stocks dropped in midday trading after technology shares slumped and investors awaited news from ongoing trade talks between the U.S. and China.
The S&P 500 fell 1.2% to 2,770.99, the Dow Jones Industrial Average plunged 1.3% to 25,677.93 and the Nasdaq dropped 1% to 7,520.88.
The yield on a 10-year Treasury bond decreased 1% to 2.73%.
The price of gold was down 0.7% to $1,290.
The price of a barrel of oil rose 0.5% to $56.05.
HEALTHCARE
San Clemente's ICU Medical Inc. (Nasdaq: ICUI) fell 5.8% to $237.75 and a $4.9 billion market cap. The maker of infusion therapy devices reported better-than-expected earnings last week, but expects a tough first quarter as a result of a shortage of IV Solutions, according to a recent earnings conference call.
TECHNOLOGY
Costa Mesa-based Veritone Inc. (Nasdaq: VERI) jumped 6.8% to $7.33 and a $142 million market cap. Shares of the company that's trying to break into artificial intelligence have climbed 58% since the beginning of the year.