February Auto Sales Up
Friday, March 1, 2019
Share this article: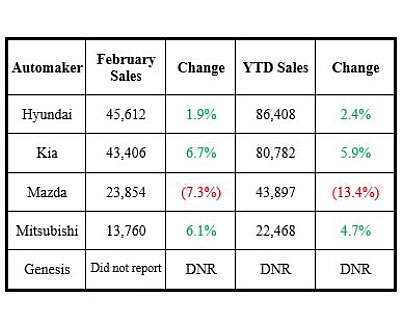 OC's automakers performed positively last month with nearly all reporting increases, except for Irvine-based Mazda North America Operations.
Hyundai Motor America in Fountain Valley reported a 1.9% increase in sales for the month, selling 45,612 units, while year-to-date sales were also up 2.4% with 86,408 vehicles. Last month marked the seventh consecutive month of increased sales, according to the automaker.
Irvine-based Kia Motors America sold 43,406 vehicles, up 6.7% year-over-year. Sales were also up for the year with 80,782 units, up 5.9%. It expects continued growth after last month's first retail deliveries of its 2020 Telluride SUV.

Mitsubishi Motors North America in Cypress said it ended the month selling 13,760 vehicles, up 6.1% year-over-year. Year sales were up 4.7% with 22,468 vehicles.
Mazda disclosed February sales of 23,854 vehicles, down 7.3% year-over-year. It sold 20,045 vehicles for the year, down 19.7%.
Fountain Valley-based luxury carmaker Genesis Motor America did not disclose sales numbers at the time of reporting.