Midday Stock Roundup
Thursday, June 27, 2019
Share this article: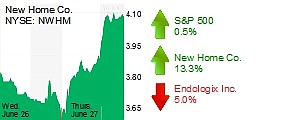 The S&P 500 increased 0.5% to 2,928 while the Dow Jones industrial average rose 0.2% to 26,588 at midday trading; Nasdaq jumped 0.7% to 7,967.34
Crude oil rose 0.2% to $59.44.
The price of gold fell 0.3 % to $1,411.
The current yield on 10-Year US Treasury Bond fell 1.7% to 2.01%.
REAL ESTATE
The New Home Company inc. (NYSE: NWHM) rose 13% to just over $4 and an $82 million market cap. The Aliso Viejo-based company on June 26 announced its expansion into Rancho Cucamonga with a goal for attainable homeownership. Larger rival KB Home was upgraded today by two analyst firms. Three other OC homebuilders also rose today as did the S&P Composite 1500 Homebuilding Index. Shares of New Home are still 61% below a 52 week high a year ago.
MEDICAL DEVICES
Endologix (NASDAQ: ELGX) was down 5% at midday with shares landing at $7.18 and a $119 million market cap. Executives at the Irvine-based medical device company gave a presentation at the 2019 BMO Prescriptions for Success Healthcare conference in New York City on June 25.