Midday Stock Roundup
Tuesday, June 25, 2019
Share this article: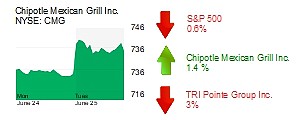 The S&P 500 was down 0.6% in midday trading at 2,928.07.
The Dow Jones Industrial Average decreased 0.5% to 26,607.98.
The Nasdaq fell almost 1% to 7,929.73.
The yield on a 10-year Treasury bond plunged 1.9% to 1.98%.
The price of gold rose 1.2% to $1,434.
The price of oil was up 0.4% at $58.10 a barrel.
RESTAURANTS
Chipotle Mexican Grill Inc. (NYSE: CMG) of Newport Beach rose 1.4% to $734.58 per share with a market cap of $20.4 billion after announcing an employee bonus program that includes sales and cash flow goals.
REAL ESTATE
Irvine-based Tri Pointe Group Inc.(NYSE: TPH) fell 3% to $11.44 per share with a market cap of $1.6 billion. The stock has fallen from $12.31 a share on Thursday amid news reports that MetLife Investment Advisors LLC has cut its stake in Tri Pointe.