Midday Stock Roundup
Monday, June 17, 2019
Share this article: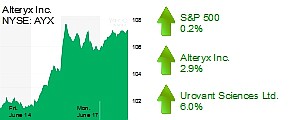 The S&P 500 was up 0.2% in midday trading to 2,893.28.
The Dow Jones Industrial Average rose 0.2% to 26,140.47.
The Nasdaq increased 0.8% to 7,856.99.
The yield on a 10-year Treasury bond was down 0.3% to 2.1%.
The price of gold dipped 0.1% to $1,343.
The price of oil fell 0.5% to $52.24 a barrel.
TECHNOLOGY
Irvine-based Alteryx (NYSE: AYX) rose 2.9% to $107.12 and a $6.7 billion market cap. Shares for the data science software maker company reached a new 52-week high of $107.99 on Monday, and have surged 80% since the beginning of the year. Last week, Salesforce.com Inc. confirmed it would buy Alteryx rival Tableau Software Inc. An analyst from Oppenheimer today issued a report on Alteryx.
HEALTHCARE
Irvine's Urovant Sciences Ltd. (Nasdaq: UROV) rose 6% to $8.51 and a $258 million market cap. Since the clinical-stage biopharmaceutical company on June 13 reported cash used in operation fell by $16.7 million to $24 million for the fourth quarter ended March 31, shares are up 14%