Midday Stock Roundup
Friday, June 14, 2019
Share this article: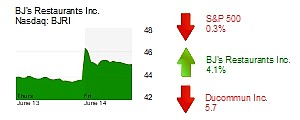 The S&P 500 declined 0.3% in midday trading to 2,884.
The Dow Jones Industrial Average was down 0.1% to 26,070.48.
The Nasdaq was also down by 0.6% to 7,794.24.
The yield on a 10-year Treasury bond declined 0.3% to 2.08%.
The price of gold was up 0.2% to $1,346.
The price of oil rose 0.8% to $52.71 a barrel.
RESTAURANTS
BJ's Restaurants Inc. (Nasdaq: BJRI) was up 4.1% to $43.12 with a market cap of $893 million. Shares of the Huntington Beach-based casual dining chain have dropped about 16% this year. Oppenheimer gave the restaurant chain an outperform rating stating Friday "given strong new unit volumes, shares under-appreciate the brand's unit growth and cash flow power of current assets."
TECHNOLOGY
Shares of Santa Ana-based aerospace and defense engineering and manufacturing firm Ducommun Inc. (NYSE: DCO) dropped 5.7% to $44.32 with a market cap of $508 million. A handful of commercial aerospace original equipment manufacturers fell Friday after analyst Mike Ciarmoli of SunTrust RH dropped the sector rating to negative over uncertainties relating to the grounding of Boeing Co.'s 737 Max jets.