Midday Stock Roundup
Tuesday, June 11, 2019
Share this article: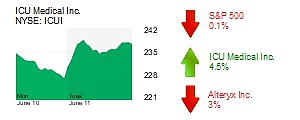 The S&P 500 was down 0.1% in midday trading at 2,887.48.
The Dow Jones Industrial Average also decreased 0.1% to 26,045.24.
The Nasdaq fell 0.1% to 7,815.14.
The yield on a 10-year Treasury bond declined almost 0.1% to 2.14%.
The price of gold rose 0.2% to $1,332.
The price of oil was up 0.6% at $53.56 a barrel.
HEALTHCARE
San Clemente-based ICU Medical Inc. (Nasdaq: ICUI) rose 4.5% to $237.98 and a $4.9 billion market cap. Shares are up about 11% this month.
TECHNOLOGY
Irvine-based data science and analytics firm Alteryx Inc. (NYSE: AYX) slid 3% to $94.85 and a $5.9 billion market cap after approaching record highs the day before on news that rival Tableau Software Inc. agreed to be acquired by Salesforce.com Inc. for $15 billion.