Midday Stock Roundup
Monday, June 10, 2019
Share this article: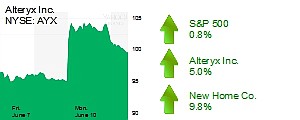 Major U.S. indexes rose Monday after President Donald Trump suspended plans for tariffs on Mexico.
The S&P 500 was up 0.8% in midday trading to 2,895.83.
The Dow Jones Industrial Average increased 0.6% to 26,150.05.
The Nasdaq climbed 1.7% to 7,869.85.
The yield on a 10-year Treasury bond jumped 2.7% to 2.14%.
The price of gold decreased 1.1% to $1,256.
The price of oil was flat at $53.94 a barrel.
TECHNOLOGY
Irvine-based data science and analytics firm Alteryx, Inc. (NYSE: AYX) neared record highs after rival company Tableau Software Inc. agreed to be acquired by Salesforce.com Inc. Shares, which reached $106.25 Monday morning, are up 5% to $99.92 and a $6.3 billion market cap.
REAL ESTATE
The New Home Company Inc. (NYSE: NWHM) in Aliso Viejo jumped 9.8% to $4.32 and an $86.5 million market cap. It was the largest increase out of all Orange County homebuilders, and among a group of about 30 real estate peers.