Midday Stock Report
Thursday, June 6, 2019
Share this article: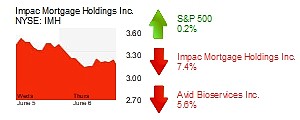 The S&P 500 rose 0.2% to 2,833.79 in midday trading.
The Dow Jones climbed 0.3% to 25,627.
The Nasdaq was flat at 7,573.74.
The yield on 10-Year US Treasury Bonds fell 0.8% to 2.10%.
The price of gold increased by 0.7% to $1,343.
A barrel of crude oil fell 0.3% to $51.55.
REAL ESTATE
Impac Mortgage Holdings Inc. (Nasdaq: IMH) dropped 7.4% to $3.35 and a $66 million market cap. The shares are 70% below their 52-week high of $10.45 reached in June last year. The S&P 500 Real Estate index today is down 0.3% to 229.36.
HEALTHCARE
Tustin's Avid Bioservices Inc. (Nasdaq: CDMO) fell 5.6% to $4 a share and a $224 million market cap on volume a third of the daily average of the past three months. Executives at Avid, a contract manufacturer of medicines, yesterday gave presentations at the 2019 BIO International Convention held in Philadelphia.