Midday Stock Roundup
Wednesday, June 5, 2019
Share this article: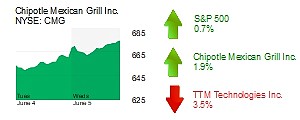 The S&P 500 was up 0.7% in midday trading to 2,822.45.
The Dow Jones Industrial Average also rose 0.7%, to 25,506.99.
The Nasdaq climbed 0.5% to 7,568.33.
The yield on a 10-year Treasury bond was 0.4% up to 2.13%.
The price of gold ticked 0.3% higher to $1,333.
The price of oil fell 3.1% to $51.81.
RESTAURANTS
Chipotle Mexican Grill Inc. (NYSE: CMG) in Newport Beach was up 1.9% to $674.71 and an $18.7 billion market cap. The fast casual restaurant chain's shares are up 54% year-to-date. Chief Financial Officer Jack Hartung yesterday told CNBC host Jim Cramer that proposed tariffs on Mexican products like avocado will have a minimal impact on the company's bottom line.
TECHNOLOGY
TTM Technologies Inc. (Nasdaq: TTMI) was down 3.5% to $8.99 and a $948 million market cap. Shares in the Costa Mesa-based printed circuit board maker are down about 30% from its 2019 peak in late April. On May 1, it reported first quarter results that missed analysts' expectations.