Midday Stock Roundup
Tuesday, June 4, 2019
Share this article: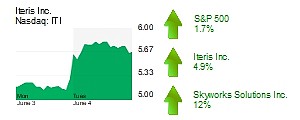 Major U.S. indexes rose after Federal Reserve officials hinted they may lower interest rates.
The S&P 500 jumped 1.7% to 2,790.31 while the Dow Jones Industrial Average also rose 1.7% to 25,235.33 and the Nasdaq climbed 2.1% to 7,490.28.
The yield on a 10-year Treasury bond climbed 2.9% to 2.14%.
The price of gold was flat at $1,238.
The price of a barrel of oil climbed 0.45 to $53.46.
TECHNOLOGY
Santa Ana-based Iteris Inc. was up 4.9% to $5.40 and a $180 million market cap. The sensors maker yesterday reported fourth quarter revenue of $26.1 million, topping the average $24.4 million of five analysts surveyed by Yahoo! Finance.
Irvine-based Skyworks Solutions, Inc. (Nasdaq: SWKS) climbed 3% to $68.93 and a $11.9 billion market cap. All 14 companies in Skyworks' peer group today rose from 2% to 5.7%. Shares for the chipmaker, which supplies Apple Inc., have are down 34% from its 52-week high.