Midday Stock Roundup
Monday, June 3, 2019
Share this article: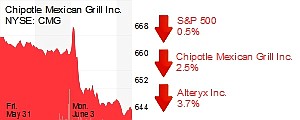 The S&P 500 was down 0.5% in midday trading to 2,738.75.
The Dow Jones Industrial Average decreased 0.2% to 24,764.40.
The Nasdaq dropped 1.4% to 7,351.15 after reports that the government is considering antitrust investigations into Amazon and Google.
The yield on a 10-year Treasury bond fell 1.4% to 2.11%.
The price of gold was up 1.1% to $1,325.
The price of oil was flat at $53.49 a barrel.
RESTAURANTS
Chipotle Mexican Grill Inc. (NYSE: CMG) dipped 2.5% to $643.87 and a $17.9 billion market cap. The Newport Beach-based fast casual restaurant said Monday that threatened tariffs on Mexican goods would cost the company $15 million this year, reducing margins and leading to higher menu prices.
TECHNOLOGY
Alteryx Inc. (NYSE: AYX) in Irvine was down 3.7% to $83.69 and a $5.3 billion market cap. Shares for the data analytics software maker are trading at about 60% of their normal volume, and are up 43% year-to-date. The share drop was the biggest among a group of eight software peers.