May Auto Sales Mixed
Monday, June 3, 2019
Share this article: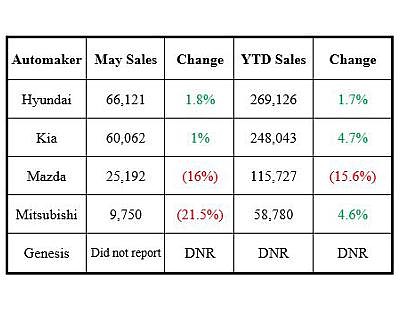 Monthly sales among OC's largest automakers were mixed last month while three of the four automakers reported an increase for the year. Fountain Valley-based luxury carmaker Genesis Motor America did not disclose sales numbers.
Fountain Valley-based Hyundai Motor America was up 1.8% for the month, selling 66,121 vehicles. Year-to-date sales rose 1.7% to 269,126 vehicles.
Kia Motors America in Irvine sold 60,062 units in May, an increase of 1% year-over-year, bringing its total sales for the year to 248,043 units, up 4.7%.
Mazda North America Operations in Irvine reported a 16% drop in sales with 25,192 vehicles. Sales for the year declined by 15.6% to 115,727 vehicles.
Cypress-based Mitsubishi Motors North America was down 21.5%, selling 9,750 units last month. It sold 58,780 vehicles for the year, up 4.6%.