Midday Stock Roundup
Tuesday, July 30, 2019
Share this article: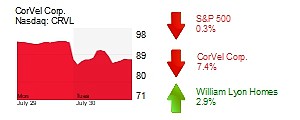 The S&P 500 was down 0.3% at 3,011.02 during midday trading.
The Dow Jones Industrial Average lost 0.2% to 27,168.64.
The Nasdaq fell 0.3% to 8,265.13.
The yield on a 10-year Treasury bond rose 0.8% to 2.07%.
The price of gold increased 0.5% to $1,440.50.
The price for a barrel of oil rose 0.7% to $57.24.
SERVICES
Shares of Irvine's CorVel Corp. (Nasdaq: CRVL) fell 7.4% to $86.10 with a market cap of $1.6 billion. The workers compensation risk management provider said today its some of its computer systems had suffered a security breach and kept them "largely offline'' last week. The company said the systems are incrementally coming back online but "there can be no assurance of the ultimate impact of this attack on our business, results of the operations or financial condition." Corvel also reported quarterly profit of 71 cents a share on sales of $150.1 million, compared with 62 cents on $150.4 million a year ago.
REAL ESTATE

Homebuilders were up on expectations of a Federal Reserve interest rate decrease. Newport Beach homebuilder William Lyon Homes (NYSE: WLH) rose 2.9% to $19.85 a share with a market cap of $750 million, while Tri Pointe Group Inc. of Irvine (NYSE: TPH) rose 1.4% to $13.74 a share with a market cap of $2 billion.