Midday Stock Roundup
Wednesday, July 24, 2019
Share this article: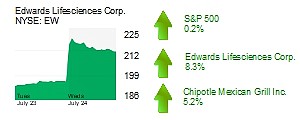 The S&P 500 rose 0.2% in midday trading to 3,009.99.
The Dow Jones Industrial Average declined 0.4% to 27,231.10.
The Nasdaq climbed 0.4% to 8,283.61.
The yield on a 10-year Treasury bond dropped 1% to 2.06%.
The price of gold ticked up 0.1% to $1,423.
The price of oil was flat at $56.76 a barrel
HEALTHCARE
Edwards Lifesciences Corp. (NYSE: EW) in Irvine rose 8.3% to $211.69 and a $44 billion market cap. After the market closed yesterday, the heart valve maker reported second quarter sales and profit that topped analysts' consensus estimates. The shares today hit an all-time high of $219.63.
RESTAURANTS
Chipotle Mexican Grill Inc. (NYSE: CMG) rose 5.2% to $777.95 and a $21.5 billion market cap. The Newport Beach-based company yesterday after the close reported second quarter revenue rose 13% to $1.43 billion and adjusted profit was $3.99 a share, compared with analysts' expectations for $1.41 billion in sales and $3.76 a share. Earlier in the day, shares reached as high as $789.50, also an all-time high.