Midday Stock Roundup
Tuesday, July 23, 2019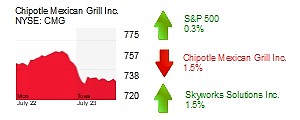 The S&P 500 was up 0.3% to 2,993.28 during midday trading.
The Dow Jones Industrial Average rose 0.2% to 27,228.68.
The Nasdaq increased 0.1% to 8,212.00.
The yield on a 10-year Treasury bond rose 0.8% to 2.06%.
The price of gold decreased 0.5% to $1,419.20.
The price for a barrel of oil was down 0.3% to $56.04.
RESTAURANTS
Chipotle Mexican Grill Inc. (NYSE: CMG) in Newport Beach was down 1.5% to $731.37 a share with a market cap of $20.3 billion, continuing a decline that started on Friday. The casual restaurant chain is scheduled to report second-earnings today after the market closes.
TECHNOLOGY
Skyworks Solutions Inc. (Nasdaq: SWKS) was up 1.5% to $84.48 a share with a market cap of $14.6 billon. The Irvine-based chipmaker has been rallying since Monday after the company said it will expand its 5G wireless infrastructure applications work and Morgan Stanley boosted the price target.