SPORTS: MOSHAYEDI, MADDEN, BISSELL AND OTHER OC EXECS SEE PARALLELS IN SAILING, BUSINESS ENDEAVORS
Setting Sail
Monday, July 15, 2019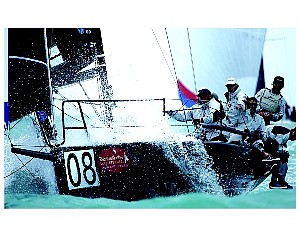 More than a dozen sailing teams from local yacht clubs and several prominent Orange County-based business executives are heading to Hawaii this week.
Don't call it a vacation, though.
They're testing their seamanship in one of the world's foremost sailing competitions, the Transpacific Race, more commonly known as Transpac.
This marks the 50th edition of the competition, which is held every two years and brings in prominent sailors and vessels from across the world.
Transpac is "one of the top three ocean races in the world and it's right here in our backyard," said Brian Bissell, a senior vice president at the Newport Beach office of Whittier Trust, a wealth management firm.
Costly Hobby
For area execs like Bissell taking part, the grueling journey requires plenty of strategy, teamwork, and little sleep while harnessing the power of high winds to continuously sail for 2,225 nautical miles in hopes of reaching Hawaii in less than a week.
It also requires a fair amount of money; boats on display during the race can run well into the millions, not factoring in crews and gear.
"I love the competitive nature of the sport, and also that you can sail against the top people just because you have a boat," said Manouch Moshayedi, chief executive at Newport Beach-based real estate investment firm Mx3 Ventures LLC.
"No matter what golf clubs you've got, you can't compete against Tiger Woods."
Mosheyedi and his family made their first fortune with storage device maker sTec Inc., which was sold to Western Digital Corp. in 2013 for $340 million.
Nowadays, the Moshayedis' main focus is real estate: they are—aptly, for Manouch—the largest property owners along Newport Beach's Mariner's Mile, home to many maritime and yacht-related ventures.
Moshayedi is one of 14 boat owners from Newport Beach competing in Transpac 50.
The Crew
Moshayedi's Rio 100 is a redesigned 100-foot Bakewell-White yacht. Its previous owner sailed with Duran Duran frontman Simon Le Bon—the boat's name comes from the band's song "Rio."
The boat, among the biggest entered in the race, will go head to head with an Australia-based 100-foot Comanche that finished last Transpac at an average speed of 20 knots, roughly 23 miles per hour.
Along with 13 boats in their division, Comanche and Rio 100 were scheduled to leave on July 13 from Point Fermin in San Pedro.
Another 80 smaller and usually slower boats get a head start and left the port a few days earlier.
Prev Next