SPORTS: MOSHAYEDI, MADDEN, BISSELL AND OTHER OC EXECS SEE PARALLELS IN SAILING, BUSINESS ENDEAVORS
Setting Sail
Monday, July 15, 2019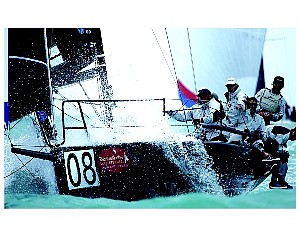 More than a dozen sailing teams from local yacht clubs and several prominent Orange County-based business executives are heading to Hawaii this week.
Don't call it a vacation, though.
They're testing their seamanship in one of the world's foremost sailing competitions, the Transpacific Race, more commonly known as Transpac.
This marks the 50th edition of the competition, which is held every two years and brings in prominent sailors and vessels from across the world.
Transpac is "one of the top three ocean races in the world and it's right here in our backyard," said Brian Bissell, a senior vice president at the Newport Beach office of Whittier Trust, a wealth management firm.
Costly Hobby
For area execs like Bissell taking part, the grueling journey requires plenty of strategy, teamwork, and little sleep while harnessing the power of high winds to continuously sail for 2,225 nautical miles in hopes of reaching Hawaii in less than a week.
It also requires a fair amount of money; boats on display during the race can run well into the millions, not factoring in crews and gear.
"I love the competitive nature of the sport, and also that you can sail against the top people just because you have a boat," said Manouch Moshayedi, chief executive at Newport Beach-based real estate investment firm Mx3 Ventures LLC.
"No matter what golf clubs you've got, you can't compete against Tiger Woods."
Mosheyedi and his family made their first fortune with storage device maker sTec Inc., which was sold to Western Digital Corp. in 2013 for $340 million.
Nowadays, the Moshayedis' main focus is real estate: they are—aptly, for Manouch—the largest property owners along Newport Beach's Mariner's Mile, home to many maritime and yacht-related ventures.
Moshayedi is one of 14 boat owners from Newport Beach competing in Transpac 50.
The Crew
Moshayedi's Rio 100 is a redesigned 100-foot Bakewell-White yacht. Its previous owner sailed with Duran Duran frontman Simon Le Bon—the boat's name comes from the band's song "Rio."
The boat, among the biggest entered in the race, will go head to head with an Australia-based 100-foot Comanche that finished last Transpac at an average speed of 20 knots, roughly 23 miles per hour.
Along with 13 boats in their division, Comanche and Rio 100 were scheduled to leave on July 13 from Point Fermin in San Pedro.
Another 80 smaller and usually slower boats get a head start and left the port a few days earlier.
Rio 100's crew of 16 includes Moshayedi, who's been sailing for 30 years, his son Sebastian, and several sailing pros.
Transpac is "an adventure with a lot of unknowns," he said, adding that just like running a business, "you've got to assemble a team of experienced sailors that work good together 24/7 to keep the boat sailing fast."
However, hiring sailing "all-stars" does not guarantee a win, according to Jim Madden, co-founder and managing director at Carrick Capital Partners, a Newport Beach private equity firm; its investments include Irvine-based software company Mavenlink.
"Consistency and relationships are very important," he said. "Some members of my crew have been sailing with me for 19 to 20 years, so we got to know each other and trust each other."
Madden's Challenge: Finding Time
Transpac is on Madden's bucket list, but he had to skip it this year.
"Finding time to sail is the No. 1 challenge," he said. "For every day in the race you need at least two to three days of practice. There is too much going on right now with my business to prepare.
"I squeeze in some time whenever I can."
Madden plans to enter his 60-foot boat, Stark Raving Mad, in the Bermuda Race next June, a 635-mile trek from Newport, Rhode Island to the island of Bermuda.
His packing list will include his lucky shoes, "the 7-year-old Sperry Top-Siders that should have been replaced some five years ago" and a white cap with his boat name on it, which he has held onto for nine years.
"You need a little bit of luck," Madden said. "I wore it for the [Newport Beach to Cabo San Lucas International Yacht Race] in March and we won … I get upset if I realize I forgot to pack it."
In sailing, luck can come in handy with "wind holes," a section of the racecourse with much less wind than others.
"A boat a mile away from you could be sitting in a wind hole and you are speeding past them, or vice versa," he said.
Then there's the risk of running into fishing lines or a lost shipping container. The crews sail day and night, in four-hour rotations, so someone is always on the lookout. Those getting a quick nap in the berths below the deck turn their feet toward the bow in case of a crash.
The teams could maneuver the sail boats through areas with high pressure, where the visibility at night is better than in areas with low cloud cover—but that's not where the wind is.
"I think [sailing would be] similar to chess if the squares on the board were constantly changing colors and the pieces were all moving simultaneously," said Whittier Trust's Bissell, who's part of an 11-man crew taking the 68-foot Grand Illusion to Hawaii. "It's a complicated game and that's what draws me to it—the strategic nature of it."
Building Relationships
Bissell grew up sailing in Newport Beach, and won a national championship while at Newport Harbor High School. His winning streak continued while at Georgetown University, where his team helped the school win its first national championship in the program's history at the 2001 Inter-Collegiate Sailing Association/Ronstan North American Team Racing Championship. He was named All-American Skipper.
These days he and his wife, Perry, participate in Thursday afternoon races put on by Newport Harbor Yacht Club, or sail to Catalina for the day.
"My favorite part of being on the boat is just how peaceful it is, especially when you don't have the motor running, you just hear the sound of the wind and the waves and being connected to the nature in a way," Bissell said.
Every once in a while he'll take a client out to sea "and give them a few pointers and let them take the wheel." His competitive spirit however is still alive, and when the opportunity to join the crew of Grand Illusion presented itself, he jumped on it.
"Growing up in Southern California, Transpac is one of those races that you hear about," Bissell said.
"I've never had the opportunity to do it in the past, and partly it was just timing. All the stars aligned this year for me to be able to do it and I'm very excited."
Bon Voyage Party
The Transpac race is "humbling, beautiful, and physically and mentally trying," said Thomas Garrett, who has participated in three—in 1977, 1999 and 2001.
"The ocean, wind, weather, lack of sleep, navigation are all part of the allure of the sport," said Garrett, who is a partner at Garrett Carchidi LLP in Newport Beach, a law firm that specializes in tax, estate planning, and other work for high-net-worth individuals and their families.
He's also former commodore of the Newport Harbor Yacht Club.
"Like every sport, sailing teaches teamwork, perseverance, and organization—and not to give up. It's also a great way to meet successful and interesting people from around the world."
Garrett participates in six to eight regattas per year, and didn't miss the Transpac party the club put on for this year's participants.
"Everyone wished them well."
Like Bissell and Garrett, Madden's father introduced him to sailing early on, and it turned into a lifelong passion he shares with his wife and daughter.
The sport also provides ample opportunities to network, especially during post-race get-togethers.
It's also "a good way to assess people, if they follow rules and are honest and ethical business people." Madden said he "would never consider working with some people after observing them cheat on the race course," such as by not giving the right-of-way to a competitor or illegally modifying the boat or sails to gain advantage.
Family Affair
This year's Transpac will be a family affair for Jim Bailey and his three adult sons, Daniel, William and Charles.
The "semi-retired" senior vice president at Westmac Commercial Brokerage Co., who now moonlights as a yacht broker in Newport Beach, invested $200,000 to buy the Destroyer, a 2005 TP52.
He estimated his cost for the race to be roughly $200,000 to assemble the crew and get the boat in shape for its third Transpac.

"I bought the boat two and a half years ago figuring that this would be a two-year program," Bailey said. "I wanted a year to learn the boat by doing a bunch of races. I also wanted to insulate myself and my boys with crew to make sure we can all get along, because with 52 feet [of space] for a week, there's no place to hide if people get upset."
Destroyer's crew includes Tom O'Keefe, owner of Daum Tooling Inc. in San Clemente; and Bruce Cooper, owner of Ullman Sails Newport Beach.
This will be the 10th Transpac for O'Keefe, whose role on the crew is that of a "headsail trimmer."
The rest of the crew are professional sailors with a variety of roles who've been helping the Baileys learn the intricacies of open sea racing. The team took the Destroyer for a run on June 29, practicing sail changes and the man overboard drill. Captain Doug McLean shouted instructions as the team swiftly maneuvered the boat through the hurricane gulch at the San Pedro Channel. The crew shifted from one side of the boat to another to preserve balance as Destroyer leaned under the strong wind gusts pressuring its sails.
"The first couple of days of the race will be just like this," said Bailey, holding a tight grip of the helm as the floor beneath continued to tilt.
Transpac and preparation for the race is sort of a comeback to sailing for him―he learned the ropes as a child while vacationing on Lido Island every summer, and stuck with the sport throughout college.
"My wife and I raced and sailed when we got married and then we started having kids and sailing kind of went by the wayside," Bailey said, adding the family took up permanent residence in Newport Beach last year, and has since participated in weekly beer can races around the harbor for which he uses a 35-foot sail boat he chartered for the year.
He set several goals for the Transpac trip, including a win, which the yacht broker believes will increase Destroyer's resale value.
"Some people will do the race and they're not very competitive or they want to do it for the experience," Bailey said. "If you're out there and you're spending this money, you might as well do the best you can."
Glory, Not Prize Money
The entry fee for Transpac 50 is $5,000 and while there is no prize money, there are trophies for the nearly dozen divisions that yachts are designated for in the race.
Nearly 100 vessels, including monohulls as small as 33 feet in length to several running around 100 feet, are taking part in the race, which starts at Long Beach's Point Fermin and ends in Honolulu.
Boats, some with crews running nearly 20 people, leave in stages, with the first having departed on Wednesday, July 10.
The winning times have steadily dropped since the first race in 1906 when the Lurline won in 12 days and 10 hours.
In 2017, the Mighty Merloe set a multihull record of four days and six hours while the Comanche set a monohull boat record of five days and almost two hours.
Manouch Moshayedi's Rio 100 won the 2017 Barn Door Trophy, which is given to the fastest monohull, manual power-only sailing yacht.
He and his 19-person crew finished in six days, 17 hours and nine minutes.