Midday Stock Roundup
Thursday, July 11, 2019
Share this article: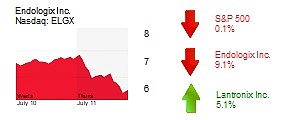 The S&P 500 was down 0.1% to 2,990.92 in midday trading.
The Dow Jones Industrial climbed 0.5% to 27,002.11. Nasdaq was down 0.2% to 8,182.04.
Crude oil fell 0.1% to $60.37.
The price of gold was down 0.3% to $1,408.
The current yield on 10-Year US Treasury Bond rose 3.5% to 2.13%.
HEALTHCARE
Endologix Inc. (Nasdaq: ELGX) fell 9.1% to $6.47 a share and a $109 million market cap. The shares are down 18% since June 25 when executives at the Irvine-based company, a maker of devices to treat abdominal aortic aneurysms, made a presentation at the 2019 BMO Prescriptions for Success Healthcare Conference in New York City. The company underwent a reverse share split in March 5 when the shares were priced at $6.60.
TECHNOLOGY
Lantronix Inc. (Nasdaq: LTRX) rose 5.1% to $3.63 a share. Irvine-based Lantronix, a maker of Internet networking products, on July 8 acquired Maestro and FALCOM Holdings Ltd., a supplier of wireless products. The shares have climbed 41% since March 25 when it announced the hiring of former Microsemi Corp. President Paul Pickle, who assumed the role on April 22.