Midday Stock Roundup
Wednesday, July 3, 2019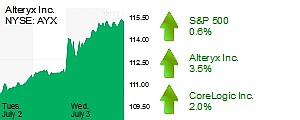 The S&P 500 was up 0.6% in midday trading at 2,991.37.
The Dow Jones Industrial Average increased 0.5% to 26,920.19.
The Nasdaq climbed 0.6% to 8,159.82.
The yield on the 10-year Treasury bond dropped 1.3% to 1.95%.
The price of gold rose 0.9% to $1,420
The price of oil increased 1.2% to $56.90 a barrel.
TECHNOLOGY
Irvine-based software maker Alteryx Inc. (NYSE: AYX) surged 3.5% to $115.60 per share with a market cap of $7.4 billion, hitting another 52-week high. The stock has been steadily rising over the past month, prompting Zacks Equity Research to ask whether it's "time to cash out."
REAL ESTATE
CoreLogic Inc. (NYSE: CLGX), the Irvine-based real estate services provider, rose 2% to $43.15 per share with a market cap of $3.5 billion, a day after releasing a report that showed U.S. home prices rose on an annual and monthly basis. Annual U.S home-price growth accelerated for the first time in 14 months, according to CoreLogic.