Midday Stock Roundup
Tuesday, July 2, 2019
Share this article: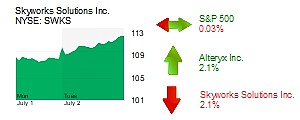 The S&P 500 was flat in midday trading at 2,964.45.
The Dow Jones Industrial Average was little changed at 26,720.00.
The Nasdaq fell 0.2% to 8,079.27.
The yield on the 10-year Treasury bond plunged 2.6% to 1.98%.
The price of gold rose 0.6% to $1,351.
The price of oil jumped 3.5% to $53.77 a barrel.
TECHNOLOGY
Irvine-based software maker Alteryx (NYSE: AYX) rose 2.1% to $110.64 per share with a market cap of $6.9 billion, hitting a 52-week high. The stock has been steadily gaining since the end of May.
Chipmaker Skyworks Solutions Inc. of Irvine (NASDAQ: SWKS) fell 2.1% to $80.19 per share with a market cap of $13.9 billion amid continuing uncertainty over President Trump's apparent retreat over sanctions on Huawei. The Chinese company accounted for about 12% of Skyworks revenue in the first six months of FY 2019.