CAMARADERIE OVER BALL GAMES, HAPPY HOURS
Voit's Broker-Owned Model Adds to Company Culture
Monday, July 1, 2019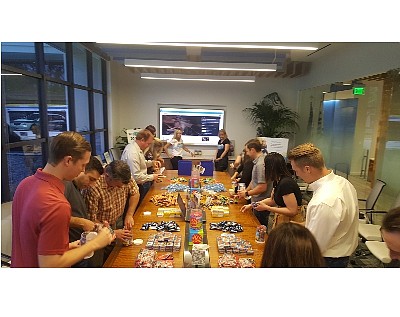 Next week, the brokers and other staff members at Voit Real Estate Services will take a break from their regularly scheduled work day to head to the Laguna Cliffs Marriott Resort & Spa not for a real estate conference, but a companywide retreat.
A company-paid night at a local resort for Voit's 150 employees and their families is one of several perks touted by the Irvine-based commercial brokerage, which is one of the Business Journal's Best Places to Work for the third year running.
"Our company does a lot of things to get our people together and let them know they are appreciated, something that I don't see a lot of other companies doing," said Jessamyn Wilkinson, director of marketing who's been with the firm for eight years.
In addition to the free hotel stays and an active social calendar—golf events, monthly happy hours, and Angels games are typical—employees stay for the less tangible, like a strong work-life balance and a collaborative work environment that they say has improved in recent years.
The firm, which specializes in industrial and office transactions, is joined by several other commercial brokerages on this year's list, including Savills, HFF, and Hughes Marino.
Voit ranked No. 3 in the small company category—15 to 49 U.S. employees—on the Business Journal's 11th annual Best Places to Work list.
The list was compiled for the Business Journal by Harrisburg, Pa.-based Best Companies Group, an independent workplace researcher that managed the registration process, conducted surveys, evaluated data and selected companies for the list based on overall scores from queries of management and employees.
Owner-User
The biggest corporate change for Voit came about four years ago when founder and Chief Executive Bob Voit, seeking to pull back on his involvement with the nearly 50-year-old company, sold his ownership to the company's brokers.
Its shareholders, executives, and the board of directors made the decision after the buyout to implement advisory meetings before quarterly board meetings to "ensure everyone gets a say."
"The amazing culture that Bob started when he launched the company in 1971 has only grown stronger, with more people getting a say in the direction our company goes," Wilkinson said.
Voit stepped down as chief executive in 2015, and remained on the board until the end of last year.
The brokerage, the seventh largest in Orange County with about $1.7 billion in local deals last year, is now led by Chief Executive Eric Hinkelman. It has about 56 brokers in OC.
Prev Next