Midday Stock Roundup
Monday, July 1, 2019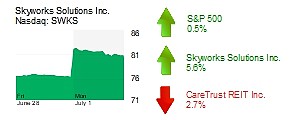 The S&P 500 was up 0.5% in midday trading to 2,956.35.
The Dow Jones Industrial Average rose 0.3% to 26,678.18.
The Nasdaq increased 0.8% to 8,070.24.
The yield on a 10-year Treasury bond was up 2.3% to 2.05%.
The price of gold was down 1.6% to $1,390.
The price of oil rose 0.6% to $58.79 a barrel.
TECHNOLOGY
Irvine-based semiconductor company Skyworks Solutions Inc. (Nasdaq: SWKS) rose 5.6% to $81.56 with a market cap of $14.1 billion. Shares of the company have jumped nearly 20% this year. The S&P 500 Information Technology sector was up 1.2% as was the S&P 500 Telecommunications Sector, up 0.6%.
HEALTHCARE
CareTrust REIT Inc. (Nasdaq: CTRE) in San Clemente was down 2.7% to $23.15 with a market cap of $2.2 billion. The healthcare-related real estate investment firm announced Monday it acquired a 99-bed transitional rehabilitation facility in Nampa, Idaho for about $12.8 million. The S&P 500 Real Estate sector was also off, down 0.7%.