Midday Stock Roundup
Wednesday, January 30, 2019
Share this article: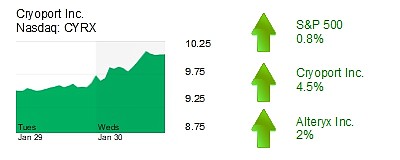 Markets were higher on expectations the Federal Reserve held steady on interest rates today.
The S&P 500 was up 0.8% in midday trading to 2,660.66. The Dow Jones Industrial Average rose 1% to 24,830.33. The Nasdaq climbed 1.3% to 7,116.34.
The yield on a 10-year Treasury bond climbed 0.6% to 2.73%.
The price of gold was flat at $1,309.
The price of oil rose 2.3% to $54.51 a barrel.
TECHNOLOGY
Alteryx Inc. (NYSE: AYX) shares were 2% higher to $69.70 and a $4.3 billion market cap. The Irvine-based data analytics software maker shares have risen about 20% this month.
HEALTHCARE
Cryoport Inc. (Nasdaq: CYRX), also in Irvine, was up 4.5% to $10 and a $293 million market cap. The cold parcel delivery services provider for health science firms said today it opened a "global logistics center" in Amsterdam.
FINANCE
Impac Mortgage Holdings Inc. (NYSE: IMH) climbed 2.3% to $3.60 and a $76 million market cap. The Irvine-based lender's shares have been buffeted by a tightening homebuyer market and are down by two-thirds since July.