Midday Stock Roundup
Thursday, January 24, 2019
Share this article: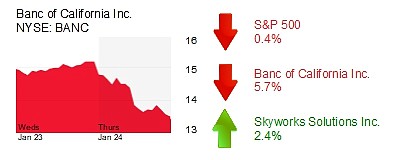 The S&P 500 declined 0.4% for 2,628.21.
The Dow Jones was down 0.6% to 24,431.09.
The Nasdaq climbed 0.1% to 7,033.17.
The yield on a 10-year Treasury bond fell 1.8% to 2.71%.
The price of gold decreased 0.3% to $1,280.
The price of oil jumped 1% to $53.12 a barrel.
FINANCE
Bank of California Inc. (NYSE: BANC) fell 5.7% to $14.09 for a $715 million market cap after it came out with fourth quarter results. The Santa Ana-based bank reported earnings of 5 cents a share, missing the consensus analyst estimate of 23 cents.
TECHNOLOGY
Skyworks Solutions Inc. (Nasdaq: SWKS) was up 2.4% to $69.88 for a $12.4 billion market cap. Shares of the Irvine-based chipmaker, which supplies Apple Inc., recovered ground from its 52-week low of $60.72 at the beginning of January.
HEALTHCARE
San Clemente-based Glaukos Corp. (NYSE: GKOS) was up 1.7% to $61.90 for a $2.2 billion market cap. Shares of the glaucoma treatment company have doubled in the past year.