Pendry Aims for L.A. 2020
Tuesday, January 22, 2019
Share this article: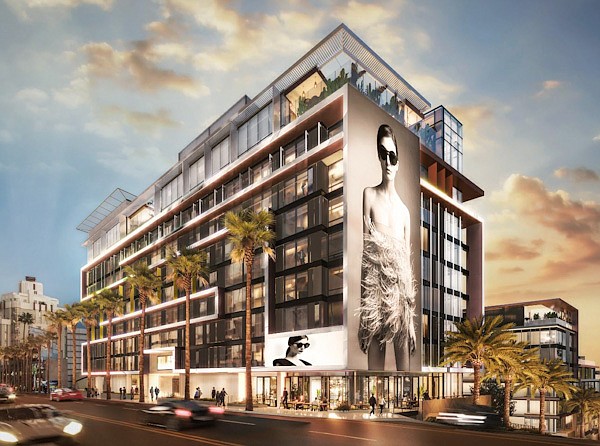 A long-rumored L.A. location for Irvine-based Montage International's lifestyle Pendry Hotels division could open as early as next year on the Sunset Strip, at the former site of a House of Blues.
The project has been in the works since about 2005, when Beverly Hills developer Combined Properties bought the property; financial backing came in 2014 from AECOM Capital in Los Angeles; talk of Pendry possibly running the hotel has been swirling since about 2017.
Pendry West Hollywood is slated to include 149 rooms and 40 residences along with a private club, restaurants, rooftop pool and bar, an entertainment venue in an overall project valued at about $450 million.
The Pendry unit targets a generally younger demographic than sister company Montage Hotels & Resorts; both are aimed at a high-end buyer, but broadly speaking at different stages of their lives and careers.
Montage, founded by Alan Fuerstman, and Pendry, run by his son Michael, have about a dozen projects in the works including Pendry Park City in Utah—minutes from a luxe Montage Hotels property—the $400 million Montage Big Sky in Montana; Pendry Natirar in New Jersey; and the $360 million SilverRock Resort—with both a Pendry and a Montage planned—in La Quinta.
The La Quinta project has also been in the works for about a decade under developer Robert Green, developer of the first Pendry hotel, in San Diego, which last week secured $212 million in construction financing from Mosaic Real Estate Investors, which has a co-lending relationship with Santa Ana-based Banc of California.